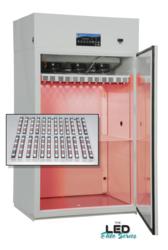 Building upon a long history of experience and knowledge in LED lighting for a variety of research applications, Percival is taking a different approach to LED lamp design.
Perry, IA (PRWEB) March 05, 2013
Seeing a need in to bridge the gap between a costly color-specific LED lighting system and lower-cost conventional fluorescent lighting, Percival Scientific, a global manufacturer of chambers and incubators for the research industry has introduced the LED-Elite Series. This new series of chambers features a multicolor LED lamp providing the correct spectral quality at the correct irradiance with exceptional environmental control every time.
LED, or Light Emitting Diode, is a solid-state semiconductor that emits light when voltage is applied to it through a process called electroluminescence. These solid-state lights (SSLs) are rapidly growing, both in application in various industries and products, in efficiency and in popularity.
Designed Around the Pros and Cons of LED Lighting
LED lighting systems, while growing in popularity, possess both benefits and challenges. Percival, with over 20 years of designing, testing and installing LED lighting in chambers, began the process a year ago to design a new lamp bank with these benefits and challenges in mind.
The popularity of LED for research applications stems from the following:

A longer life and no harmful toxins mean LED is environmentally friendly
Ability to control the output and wavelength
Highly stable and predictable which allows for the reproduction of the same experiment over many experiences
A robust light source due to the solid-state architecture; this reduces burnout and other mechanically induced failures
Maximum light output varies by chamber model. Beginning at 24° C, unlike fluorescent lighting, LED output increases 10% measured at 6" from the lamp bank as the temperature decreases to 0° C. In contrast newer fluorescent lighting (without using Percival's patented lamp bank design) experiences a decrease in light intensity of up to 60% for the same temperature drop.
The challenges to a LED lighting system in research chamber applications include:
High ambient temperatures and humidity reduces output and efficiency
High initial cost
Color rendering is limited; doesn't allow for every color in the spectrum of sunlight
Sensitive to voltage and polarity
Hard to achieve color distribution when multiple colors are used
The challenge for researchers, especially those in the plant-growth research industry, has been finding a happy medium between unstable, high heat, hard-to-control fluorescent lighting and the high cost and color limits of a LED lighting system.
New Design Approach
Building upon a long history of experience and knowledge in LED lighting for a variety of research applications, Percival is taking a different approach to LED lamp design. The new design includes:
Improved lighting system performance over a larger range of temperatures
Greater flexibility to control specific wavelength of light
LED modules contain White/Red and White/Far Red color combinations
White LED's are included on every module and offer a high-output Cool White color that is ideal for high light intensity, color rendering and visual plant inspection.
This type of LED lighting system is currently available only through Percival Scientific. While standard with the Elite Series in 30, 36 and 41 sizes, this exclusive lamp bank is also available as an optional upgrade to any other Percival chamber.
For More Information
Percival produced a webinar to help industry professionals understand the features and benefits of LED lighting in research chamber applications. Preview the webinar here. In addition, complete product specifications are available at or at info(at)percival-scientific(dot)com
About Percival Scientific, Inc
Percival Scientific, Inc. is based in Perry, Iowa. Established in 1886, the company received its first patent in 1901 for a refrigerated cabinet design. In the 1950's, Percival became involved in creating the first commercially available plant growth chamber. Today, Percival leads the industry in the design and manufacturing of plant growth chambers, biological incubators and special application chambers. Percival ships chambers to universities, government institutions and business both domestically and internationally. For further information on Percival Scientific, Inc, please visit http://www.percival-scientific.com.