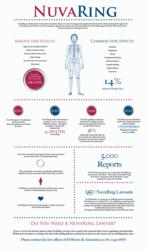 (PRWEB) March 02, 2013
Recently, the offices of d'Oliveira & Associates released a NuvaRing infographic with current information about the device's potential side effects and the large number of lawsuits alleging the device has caused injury. NuvaRing is a flexible plastic contraceptive device that releases a low dose of estrogen and progestin directly into the bloodstream through the vaginal wall. The progestin prevents the ovary from releasing an egg, thins the uterine wall to prevent implantation of a fertilized egg, and thickens the cervical mucus to prevent sperm from entering the uterus. The device is inserted into the vagina for three weeks and removed for one week to allow for a menstruation period (visit the NuvaRing site to learn more). The FDA approved this contraceptive device in 2001 for sale on the market by Merck*.
The infographic illustrates minor and serious NuvaRing side effects that have been associated with the device; such as, weight gain, depression, blood clots, risks of cancer, and even death***. The infographic also includes information obtained by CBS News when the FDA granted a Swiss television program access to its NuvaRing records and the program discovered that the device was linked to 40 deaths**. A timeline highlighting important events in the development of the device and the increase in adverse event reports and lawsuits is also represented on the infographic; specifically when the FDA received over 5,000 adverse event reports from NuvaRing users****. NuvaRing claims have been consolidated in multidistrict litigation in the United States District Court for the Eastern District of Missouri (In re: NuvaRing Products Liability Litigation, No. 08-md-1964, JPML, Eastern District Missouri).
Visit the NuvaRing webpage and view the NuvaRing infographic: http://www.good-legal-advice.com/nuva_ring.htm
Have You Suffered an Injury from NuvaRing?
If you or a loved one has been injured using NuvaRing, you may want to speak with a personal injury lawyer regarding a potential claim. A NuvaRing lawyer familiar with new developments in the investigation of the medical device may be able to help you make important personal and legal decisions. d'Oliveira & Associates, P.C. is working with some of the leading defective device lawyers in the country who are handling these cases.
Please contact the law offices of d'Oliveira & Associates, P.C. at 1-800-992-6878 or fill out a contact form for a free legal consultation.
Sources:
*fda.gov/Drugs/DevelopmentApprovalProcess/HowDrugsareDevelopedandApproved/DrugandBiologicApprovalReports/ucm081684.htm
**cbsnews.com/8301-505123_162-42848006/at-merck-an-undercover-video-and-40-deaths-plague-nuvaring-birth-control-brand/
***health.nytimes.com/health/guides/specialtopic/birth-control-and-family-planning/print.html
****adverseevents.com/drugdetail.php?AEDrugID=4584&BrandName=NUVARING