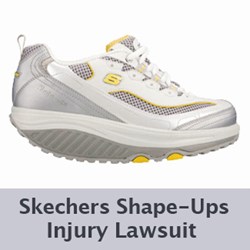 Wright & Schulte LLC, is dedicated to helping those injured by Skechers Shape-Ups receive the compensation they deserve. Call 800-399-0795 or visit www.yourlegalhelp.com today for a FREE consultation!
Columbus, OH (PRWEB) March 08, 2013
Wright & Schulte LLC, an experienced product liability law firm, has filed a Skechers lawsuit Case No. 3:13-cv-00156-TBR) on behalf of a woman from Colombia who alleges that the plaintiff fell and broke her right calf bone due to the inherently unstable design of Skechers Shape-Ups. The plaintiff had to wear a cast for weeks and then undergo months of physical therapy, allegedly due to the Skechers leg injury. The Skechers injury lawsuit was filed on January 28, 2013, in the federal Skechers Toning Shoes Products Liability Litigation (MDL 2308), now underway in U.S. District Court, Western District of Kentucky. Richard W. Schulte, a partner with the firm, is serving on the Plaintiffs Steering Committee in the federal Skechers MDL Litigation.
Wright & Schulte LLC is currently offering free Skechers case evaluations to individuals who suffered serious injuries, including stress fractures, ankle, hip and wrist fractures, tendon and ligament damage, and head and spinal cord injuries, while wearing Skechers Toning Shoes. For more information on filing a Skechers Shape-Ups lawsuit, or to arrange for a free legal consultation, please visit yourlegalhelp.com, or call 1-800-399-0795.
Leg Fracture Allegedly Caused By Unstable Skechers Toning Shoes
According to court documents, the plaintiff bought the Skechers Shape-Ups in October 2011 and wore them daily. Within two months of wearing her Shape-Ups, the plaintiff was on a flat surface when her right toning shoe turned inwards causing the plaintiff to fall. After enduring about a week of persisting and intense pain in her right calf region, the plaintiff sought medical treatment, at which time she was informed that she had fractured her right fibula (or calf bone). As treatment, the plaintiff wore a cast on her lower right leg for weeks and then attended extensive physical therapy.
Alleged Skechers Negligence
Court documents go on to lay out evidence that "the health risks of Skechers outweigh the absence of any benefit provided to [individuals who wear Shape-Ups]." In fact, the complaint cites an independent study overseen by the American Council on Exercise (ACE) at the University of Wisconsin. This study found that, "there is simply no evidence to support the claims that these shoes will help wearers exercise more intensely, burn more calories or improve muscle strength and tone." (http://www.acefitness.org/getfit/studies/toningshoes072010.pdf ) Additionally, the complaint points out that the CPSC has received more reports of Skechers toning shoe injuries than injury reports for any other product in its database (as of May 2011).
(news.consumerreports.org/safety/2011/05/are-toning-shoes-unsafe-reports-of-injuries-raise-concern.html)
In May 2012, Skechers was ordered to pay the Federal Trade Commission $40 million to settle FTC charges after the courts agreed with such findings of Skechers negligence by ruling that Skechers had overstated the health benefits of Shape-Ups.
(http://www.ftc.gov/opa/2012/05/consumerrefund.shtm)
For more info regarding Skechers lawsuits, visit;
An Additional 101 Skechers Shape-Ups Lawsuits Filed in Kentucky Federal Court, By Wright & Schulte LLC
Skechers Lawsuits Continue to Rise Even after $40 Million Settlement with FTC, Wright & Schulte LLC Reports
About Wright & Schulte LLC
Wright & Schulte LLC, an experienced personal injury firm, is dedicated to the belief that America's legal system should work for the people. The attorneys at Wright & Schulte LLC stand up for the rights of people who have been injured or wronged, and fight tirelessly to ensure that even the world's most powerful corporations take responsibility for their actions. If you're looking for a law firm that will guarantee the aggressive and personal representation you deserve, contact Wright & Schulte LLC today. Free Skechers lawsuit case evaluations are available through yourlegalhelp.com, or call 1-800-399-0795.
Contact:
Wright & Schulte LLC
812 East National Road
Vandalia, Ohio 45377
1-800-399-0795
yourlegalhelp.com