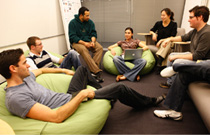 "We know innovative companies like Apple have many options to choose from and we were honored they chose the Comfy Sacks to outfit their corporate headquarters in Cupertino California"
Saint Louis, MO (PRWEB) March 07, 2013
It's often said we spend more time with our coworkers than we do our family. For many, the office barely offers solace; there is a recognizable ring for those office-workers who are accosted by tones of black, grey and white, while sitting in their mass-produced, uncomfortable office chair. Yet, many companies recognize rigid designs yield rigid thinking. As such, these trend-setters are rejecting traditional office design. Going deeper than simple cosmetic changes, select businesses want to foster employee creativity with help from comfortable office furniture.
Enter Comfy Sacks, a premiere bean bag furniture company, who has been very proud to bring comfortable seating to individuals of all ages and environments by means of bean bag furniture. Bean bag furniture offers versatility and resilience; their bright colors offering a sharp contrast to the often dull and buttoned-up atmosphere of the typical office environment. Because the bean bag chairs and bean bag sofas are easily moved, they combine flexibility with comfort during impromptu brain-storming sessions.
Comfy Sacks owner Tyler Shearburn expresses pride, "We know innovative companies like Apple have many options to choose from and we were honored they chose the Comfy Sacks to outfit their corporate headquarters in Cupertino California. Apple wanted a product that would be very durable yet comfortable while adding some nice color to the office. When it came to color choice, it was no surprise they chose our 'Apple' fabric color for the majority of their Comfy Sacks. We are thrilled to be in Apple and have enjoyed speaking with hundreds of Apple employees that have also decided to put a Comfy Sack in their home." Tyler has sold his products to many high-profile companies, including Amazon and Zappos, most of which are re-thinking their office environment to maximize innovation.
Comfy Sacks is a leading retailer of bean bag style furniture, designed to be the most comfortable, with premium shredded foam filling, sturdy construction and the softest cover materials available. For additional information, please contact Tyler Shearburn directly by phone at 877.884.3826 x 705 or via e-mail at adaptivefurniture(at)comfysacks(dot)com.