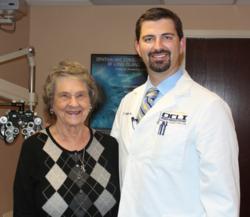 Being able to restore vision and avoid surgery is a huge medical breakthrough for people suffering from VMA and we are thrilled that we are able to offer the JETREA injection as an alternative to surgery
Westbury, NY (PRWEB) March 04, 2013
Ophthalmic Consultants of Long Island (OCLI) was the first ophthalmology practice on Long Island to inject JETREA® (Ocriplasmin) to treat patients with symptomatic Vitreo-Macular Adhesion (VMA) or Vitreo-Macular Traction (VMT). VMA is an eye disease that occurs when the vitreous (jelly-like substance inside the eye) adhesion to the macula (area in the back of the eye that converts light into images and provides central vision) begins to pull on the delicate tissue, distorting and even tearing it up. Patients experience symptoms such as distorted or decreased vision as a result of this persistent adhesion. On Wednesday, February 20th, Dr. Daniel Kiernan administered the first JETREA injection on Long Island at OCLI's Mineola office. The patient was 86-year-old Barbara Hindley of Freeport, NY.
"I noticed that when I was reading my vision was blurry," said Mrs. Hindley. "As the sole caretaker for my 88-year-old husband, surgery was not an option for me due to the fact that the recovery could take several weeks and I would have to remain immobile in a head down position during that time. The injection took five minutes, it was painless and I could continue with my normal everyday activities afterwards."
Approved by the U.S. Food and Drug Administration in October 2012, JETREA is the first drug approved to treat VMA. It is estimated that 250,000 people in the U.S. are affected by VMA.
"VMA is a disease that is commonly overlooked and one of the challenges we face is raising awareness that there is a non-surgical option now available," said Dr. Kiernan. "If left untreated, VMA could greatly affect the quality of life for individuals, typically causing distortion and blurred vision. While it doesn't always cause total loss of vision, simple everyday activities such as reading and driving could become impaired. In addition, if the adhesion causes a tear to develop into a macular hole, severe vision loss can occur. When this happens, the only option to restore some vision is a complex operation that requires the patient to maintain a face down position for up to one week afterwards. Being able to restore vision and avoid surgery is a huge medical breakthrough for people suffering from VMA and we are thrilled that we are able to offer the JETREA injection as an alternative to surgery."
JETREA contains the active substance ocriplasmin. After dilution, it is injected into the eye. Ocriplasmin is an enzyme that breaks down proteins in the eye responsible for VMA. The breakdown of these proteins allows a better separation between the vitreous and macula and can reduce the chances that tugging will occur.
JETREA will be available in OCLI locations across Long Island by OCLI's Board Certified Ophthalmologists who are Retinal Specialists: Dr. Glenn Stoller (Lynbrook, Rockville Centre), Dr. Ken Carnevale (Lynbrook, Rockville Centre, East Setauket) and Dr. Daniel Kiernan (Lynbrook, Rockville Centre, East Setauket, Mineola).
###
About Ophthalmic Consultants of Long Island
OCLI, one of the largest ophthalmology practices in the nation, consists of 26 eye doctors and specialists representing most subspecialties of ophthalmology and optometry in 9 locations throughout Long Island; in Rockville Centre, Lynbrook, Valley Stream, East Setauket, Manhasset, East Meadow, Port Jefferson, Inwood and Mineola. OCLI also has a research department that is involved in FDA studies to improve the treatment and diagnosing of ophthalmic diseases. For more information, please call 1-866-SEE-OCLI (1-866-733-6254) or visit http://www.ocli.net.