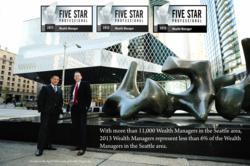 Seattle, WA (PRWEB) March 19, 2013
Adriel Tam and Marcus Dusenbury have been named to the 2013 FIVE STAR: Best in Client Satisfaction Wealth Managers list in the April issue of Seattle Magazine for the 3rd year in a row. The FIVE STAR Best in Client Satisfaction Wealth Manager Award is given to less than 6 percent of all wealth managers within the Seattle area. Wealth managers are rated by their clients and other financial service professionals on customer service, integrity, knowledge/expertise, communications, value for fees charged, attainment of financial objectives, quality of recommendations and overall client satisfaction.
Adriel and Marcus are with Viridian Investment Management - an independent company providing financial services to individuals, families, and closely held businesses in the Puget Sound area.
Award based on 10 objective criteria associated with providing quality services to clients such as credentials, experience, and assets under management among other factors. Wealth managers do not pay a fee to be considered or placed on the final list of 2013 Five Star Wealth Managers.
Securities & Advisory Services offered Through LPL Financial
A Registered Investment Advisor Member FINRA/SIPC