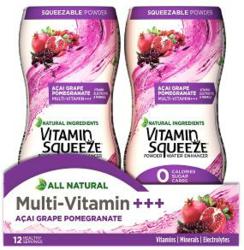 Phoenix, Arizona (PRWEB) March 01, 2013
Ecosentials LLC is pleased to announce that Vitamin Squeeze™ Liquid and Powder Water Enhancers will be launched in more than 800 SUPERVALU stores nationwide under the retail banners Cub Foods, Acme Markets, Farm Fresh Food & Pharmacy and Albertsons. Depending on the store's format, each retailer could carry up to eight Vitamin Squeeze™ SKUs beginning in March.
"We're excited to partner with SUPERVALU to bring Vitamin Squeeze™ to the wide range of customers that SUPERVALU serves," said Bill McKay, Founder and CEO of Ecosentials, maker of Vitamin Squeeze™. "SUPERVALU has proved to be an innovator in grocery retail and supply chain industry in its 140 years. Likewise, Vitamin Squeeze™ is the most innovative water enhancer on the market. We have patents pending covering our novel powder dispensing squeeze bottle that allows consumers to customize flavor and nutrients. We have used this technology to introduce the first of its kind all-natural powder water enhancer, which will fill a large, unmet consumer and retailer need."
Ecosentials is committed to providing consumers with exciting, healthy beverage products that are in line with today's consumer trends. Vitamin Squeeze™ Water Enhancers do that by:

Fighting the obesity trend in the United States. Vitamin Squeeze™ has no calories, no carbohydrates, no glycemic index, no sugar.
Promoting healthy living habits through hydration and vitamin replenishment. Vitamin Squeeze™ makes water taste good, so children (as well as adults) drink more water. Some nutrients, including vitamin C and B, are excreted through the kidneys and must be replenished. Vitamin Squeeze™ has 120 percent of a day's vitamin C requirement as well as 100 percent of vitamins B3, B5, B6 and B12 and 50 percent of vitamin D per serving in addition to electrolytes, zinc and chromium per serving.
Conserving Earth's precious resources by reducing plastic bottle consumption. One 8-ounce bottle of Liquid Vitamin Squeeze™ saves up to 16 16.9-ounce PET water bottles. One 12-serving bottle of Vitamin Squeeze™ Powder saves up to 12 each 16.9-ounce PET water bottles if used with tap water and replaces about five each 20-ounce vitamin enhanced water bottles. One 24-serving Powder Bursts™ Powder saves up to 24 each 16.9-ounce PET water bottles if used with tap water or makes the equivalent of 16 cans of 12-ounce soda.
For more information about Vitamin Squeeze™, visit http://www.vitaminsqueeze.com.
About Vitamin Squeeze™
Ecosentials LLC developed the breakthrough squeezable bottle in 2012 with Vitamin Squeeze™ Liquid Water Enhancers. It used its patent pending dispensing technology to create the first-of-its-kind, squeezable Powder Water Enhancer. The line, which is unique to market because of its squeeze dispensing natural powder, is available in Multi-Vitamin, Energy and Weight Control formulas. Vitamin Squeeze™ Powder Water Enhancers are a delicious way to add vitamins C and B to your drinking water, which are clinically proven to be water-soluble vitamins that the body requires to be replenished throughout the day. The portable on-the-go bottle makes it easy to transform water into a nutrient enhanced beverage anywhere, anytime. Benefits include multi-vitamin, energy and weight control. When hydrating, remember: A Squeeze Is All You Need™ for delicious custom flavor and benefits.