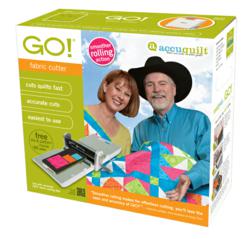 This GO! cutter upgrade is a direct result of the relationship we have with our quilters.
Omaha, NE (PRWEB) March 07, 2013
AccuQuilt is making the GO!® Fabric Cutter easier than ever to use. The new smoother rolling model uses the same GO! dies and accessories but now features an even easier cutting experience. New quilters will fall in love with the functionality of the GO! Fabric Cutter while veterans will enjoy how much easier it is to use than traditional cutting methods.
The AccuQuilt GO! Fabric Cutter allows quilters to cut fabric up to 90% faster than with rotary cutters or scissors. To a quilter of any skill level, that's the equivalent of being able to spend 54 more minutes of every hour quilting instead of cutting fabric. The smoother rolling action will especially benefit those quilters that have a hard time with manual methods due to sore joints or muscles.
"We listen to customers and take their feedback seriously," said Steve Nabity, AccuQuilt's Chief Energizing Officer. "As our customers use our fabric cutters and dies, they become an invaluable source of feedback for product improvement. This upgrade is a direct result of the relationship we have with our quilters. They tell us what they want or need and we do our best to improve our products accordingly or create new ones that fill those needs."
Quilters will recognize the new cutters via upgraded packaging featuring pictures and endorsements from pro quilters Alex Anderson and Ricky Tims.
AccuQuilt GO! fabric cutters, dies and accessories are available at local quilt and fabric retailers. Quilters also can purchase GO!® and Studio™ fabric cutting systems by visiting http://www.accuquilt.com or calling 888.258.7913.
About AccuQuilt – Better Cuts Make Better Quilts®
Headquartered in Omaha, Neb., AccuQuilt offers quilters, fabric crafters and retailers a premiere line of fabric cutters, dies, quilting patterns and other quilt and fabric cutting solutions that help quilters quickly and accurately cut shapes for quilting and fabric crafts. AccuQuilt also offers quilters a wide variety of rich educational resources to enhance their quilting experiences. Cutting with AccuQuilt cutters is a natural evolution of fabric cutting methods. "First scissors…then rotary…finally…AccuQuilt®" for fast, easy, accurate fabric cutting. Visit http://www.accuquilt.com for more information.