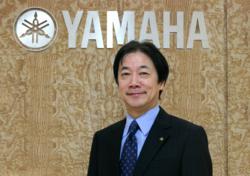 "As we continue to celebrate Yamaha's 125th anniversary, it is a pleasure and honor to return to the U.S. as President of YCA, where I had such a rewarding experience earlier in my career," said Mr. Fukutome
Buena Park, Calif. (PRWEB) March 01, 2013
Hitoshi Fukutome has been named President of Yamaha Corporation of America (YCA) effective March 1, 2013. He succeeds Takuya "Tak" Nakata, who will return to Yamaha Corporation Japan (YCJ) to lead sales and marketing for the Musical Instrument (MI) and Audio Products Group, and will continue to work closely with YCA.
Mr. Nakata has served as President of YCA since April 2010, overseeing a period of growth for the company despite a difficult financial climate in the United States.
"Our company achieved important milestones during my time here in the U.S., including YCA's 50th anniversary and Yamaha's 125th anniversary," said Mr. Nakata. "With our exceptional management team, we successfully pulled YCA out of the severe recession that began in 2008, and I believe, built a stronger foundation for our company. I know that Mr. Fukutome will bring us continued success in the future."
Mr. Fukutome has been President of Yamaha Korea since 2010. He previously served as General Manager, Sales and Marketing Department of the Piano Division at YCJ, where he worked on many milestone events at the company, including the acquisition of Austrian piano manufacturer Boesendorfer and the implementation of the new global factory strategy.
He began his career at Yamaha (then Nippon Gakki Co., Ltd., which officially changed its name in 1987 to "Yamaha Corporation") in 1982, and in 1987, he joined the staff of the Piano Division's Overseas Sales & Marketing Section.
In 1990, he was promoted to Manager, Piano Division of Yamaha Europe GmbH in Hamburg, Germany, and in 1995 became CEO, Yamaha Music Austria GmbH in Vienna (which in 1996 became a branch of Yamaha Europe). He was named Manager, Overseas Sales & Marketing Section of the Piano Division in 1997.
His tenure in the United States began in 2000, with his appointment to the position of Assistant General Manager of the YCA Keyboard (then Piano) division and later to Assistant General Manager of the Music Marketing Group (MMG) before returning to YCJ in 2004. He was promoted to General Manager, Sales & Marketing Department of the Piano Division in 2005.
"As we continue to celebrate Yamaha's 125th anniversary, it is a pleasure and honor to return to the U.S. as President of YCA, where I had such a rewarding experience earlier in my career," said Mr. Fukutome. "I look forward to building upon our company's legacy of unparalleled quality and technological innovation."
For more information, write Yamaha Corporation of America, P.O. Box 6600, Buena Park, CA 90622; telephone (714) 522-9011; e-mail infostation(at)yamaha(dot)com; or visit http://4wrd.it/YAMAHAUSA.
-END-
About Yamaha
Yamaha Corporation of America (YCA) is one of the largest subsidiaries of Yamaha Corporation, Japan and offers a full line of award-winning musical instruments, sound reinforcement and home entertainment products to the U.S. market. Products include: Yamaha acoustic, digital and hybrid pianos, portable keyboards, guitars, acoustic and electronic drums, band and orchestral instruments, marching percussion products, synthesizers, professional digital and analog audio equipment, Steinberg recording products and Nexo commercial audio products, as well as AV receivers, amplifiers, Blu-ray/CD players, iPod docking systems, home-theater-in-a-box systems and its exclusive line of Digital Sound Projectors. YCA markets innovative, finely crafted technology and entertainment products and musical instruments targeted to the hobbyist, education, worship, professional music, installation and consumer markets.