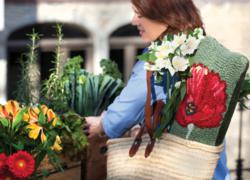 like being in the middle of a summer garden all year long
Manchester, VT (PRWEB) March 02, 2013
Spring flowers are popping up extra early in Vermont at the home accent company Chandler 4 Corners, where the warehouse is already brimming with tulips, daisies, roses, poppies, iris, and sunflowers. The flowers are new pillow designs, 13 in all. As with most of Chandler 4 Corners' products, the floral pillows are hand-hooked in pure wool and come from the artistic brain of Laura Megroz, C4C's chief designer. "Designing the Floral Collection was so much fun," Megroz said, "like being in the middle of a summer garden all year long, which is exactly what we hope collectors of them will experience."
Many of the new designs grace Chandler's "horizon pillows" which are 8 x 24"—long, lean and affordable. Horizon pillows turn out to be an ideal shape for many designs. One C4C horizon pillow features a low-slung dachshund, for example, and the "hot dog" pooch fits on it perfectly. The shape is equally appropriate for a long-stemmed rose or tall sunflower. A trio of blue iris also fits the proportions sweetly, too. Although it seems a shame to hide these flowers behind someone's back, the horizon pillows do an excellent job as the most colorful and sophisticated lumbar support imaginable.
In addition to the horizon pillows, many of the new designs are also available in classic 18" square hand hooked wool pillows. The 18" size sits prettily on a couch and instantly dresses up a living room. They can be changed out to suit the season's decor at a moment's notice, so be sure to look at the Harvest Collection, the Winter Collection, and the other themes when you visit online.
All of the new flower accent pillows, along with the full array of Chandler 4 Corners products, are available at their website and at many retailers across the country.
Chandler 4 Corners has been offering handmade pillows, rugs, and accent furniture to discriminating buyers since 1991. Made of pure wool, the pillows and rugs have striking motifs by noted designer Laura Megroz. In addition, they are incredibly durable, come in glowing colors, and offer wool's famous ease of care. Visit online at chandler4corners.com or call 1-800-239-5137 to request a catalog.