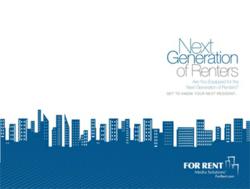 Norfolk, VA (PRWEB) March 01, 2013
For Rent Media Solutions™ has published the Next Generation of Renters white paper after surveying more than 6,000 renters to bring an in depth understanding of resident needs, desires and expectations of multifamily communities.
By understanding what potential renters expect in a rental community, property managers and owners gain the needed insight to create a tactical marketing plan that increases occupancy and resident retention.
Filled with graphs and statistics from renters nationwide, this white paper addresses:

How renters are searching for apartments
-Social media presence can increase the property's brand exposure by more than 80%
Which ways renters want to communicate with their communities
-Over 60% of renters have a preferred method of communication
What renters would like to receive from their communities in the future
-More than 50% of renters are looking for future features and amenities that property owners may already have but are not promoting
"For Rent Media Solutions consistently strives to elevate opportunities for property managers and owners to market to consumers." said Terry Slattery, president of ForRent.com® and Homes.com™. "This white paper is structured so that properties can gain the invaluable insight into the search habits, communication styles and overall preferences of residents. The information can be used to formulate a cohesive marketing strategy that incorporates the responses of residents."
Download the Next Generation of Renters white paper today.
About For Rent Media Solutions™
Founded in 1982 as For Rent Magazine®, For Rent Media Solutions™ is headquartered in Norfolk, Va., and provides multifamily housing solutions for apartment seekers and property/apartment managers and owners through integrated marketing techniques, including print and Internet, mobile media, custom video and social media solutions. For Rent Media Solutions operates For Rent.com® Magazine, as well as Apartamentos Para Rentar®, and publishes magazines covering markets nationwide. For Rent Media Solutions operates five additional websites: ForRent.com®, SeniorOutlook.com®, CorporateHousing.com® and ParaRentar.com®, and ForRentUniversity.com®. Visit ForRent.com for more information, or visit us on Facebook, Twitter, YouTube and LinkedIn.
# # #