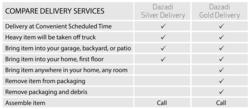 Los Aneles, California (PRWEB) March 03, 2013
Dazadi.com launches new delivery options available to customers with products requiring freight. Under the newly upgraded delivery service, Dazadi will deliver every freight item into the customer's home.
Customers may choose from 2 different levels of service; Dazadi Silver Delivery and Dazadi Gold Delivery. Now, the minimum level of freight delivery, Dazadi Silver Delivery, takes the off the truck and puts it anywhere on the first floor including the home, backyard, garage, or patio. Dazadi Gold Delivery puts the item on any floor in or around the home, removes the item from packaging, and removes all packaging and debris. Customers can also opt for full assembly, for an additional fee.
"We are continually seeking opportunities to stay competitive while keeping our customers experiences the main priority. Many of our items are large and heavy. By offering a higher level of delivery service our customers are insured they will be taken care of after the purchase is completed." says Jason Boyce, President of Dazadi.com. "We will never drop off a heavy item on the customer's curb again."
"We worked very hard to hand craft our delivery service options and worked thoroughly with our freight carriers to extend the best rates possible,"
##
Dazadi.com, is Internet Retailer Second 500 Fastest Growing Company as well as an Inc. Magazine 500/5000 Fastest Growing Company. Founded in the May of 2002 by four brothers, Dazadi.com is a specialized online retailer of home recreational products. "The Home of Awesome," (Dazadi.com's new tagline) sells over 10,000 unique items for the home including Basketball Systems, Game room equipment (Pool Tables, Air Hockey Tables, and Foosball Tables), Home Gym Equipment (Treadmills, Stairmasters, Elliptical Trainers), Patio Furniture, Toys and Games, and Basketball Hoops and other sporting goods.