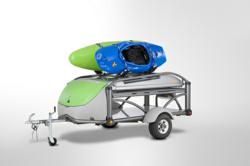 Asheville, NC (PRWEB) March 05, 2013
March 8 – 10, 2013 are the dates for this year's Canoecopia, the largest consumer event specifically for paddlesports in the world. SylvanSport's innovative and fun GO camping trailer will share the floor with more than 250,000 square feet of canoes, kayaks, outdoor gear, and apparel, as well as more than 100 educational clinics, workshops, seminars, and speakers. Attendees will learn how to select, buy, and utilize the right equipment and gear for varying styles of paddling. SylvanSport will teach paddling lovers there is a new way to approach camping that makes it simple to bring comfort, efficiency, and all the necessary gear to the woods.
How a GO Camping Trailer Hauls a Canoe
The GO camping trailer is light-weight and strong. It can be towed behind SUV's, as well as smaller vehicles such as the Subaru Outback, Mini Cooper, and other brands. Paddlesports enthusiasts no longer have to worry about strapping the canoe to the top of the car. Easily pack up camping gear and once finished load the canoe on the top of the GO. At approximately 840 pounds GO camping trailers are light enough to be managed with ease and durable enough to haul canoes, kayaks, mountain bikes, snow boards and more.
From Gear Trailer to Tent Trailer in Minutes
The majority of outdoor enthusiasts enjoy a long day of canoeing or other activities and then need time to relax by the fire and get a good night's rest. GO camping trailers transition from a gear-hauling machine to a cozy, weatherproof home away from home in just minutes. GO's versatility is what makes it different than other canoe trailers. Go makes it possible to easily turn plans for a day trip into an epic weekend.
Find Out More About Canoecopia 2013 and SylvanSport
Keep up with SylvanSport and follow news and updates about the GO at SylvanSport.com. Find out about upcoming events and meet the SylvanSport team. See our product in action. If you love the idea of spending the weekend with 20,000 paddling enthusiasts including beginners and experts visit the Canoecopia website. You can also like Canoecopia on Facebook to stay updated on all the latest news.