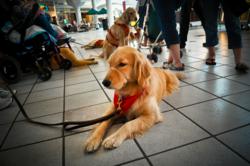 We are thrilled to partner with PIF! At 4 Paws for Ability, we strive to 'pay it forward' every day in the work that we do.
Dayton, OH (PRWEB) March 06, 2013
4 Paws for Ability is proud to announce the partnership with Pay It Forward(PIF) Apparel, LLC, in an effort to Pay it Forward.
Kicking off in March, this cause marketing partnership will include the opportunity for supporters to purchase a fabulous PIF T-shirt!
The promotion will last year round, starting in March, then again in May, September and November.
"We are thrilled to partner with PIF! At 4 Paws for Ability, we strive to 'pay it forward' every day in the work that we do," said Karen Shirk, 4 Paws for Ability founder and executive director. PIF T-shirts cost $23 each and 4 Paws for Ability will receive 25 percent of each shirt sold. That means 4 Paws for Ability will obtain nearly $6 per shirt to benefit more children with disabilities. That is after all, what 4 Paws for Ability is all about! In fact, over the past 15 years, 4 Paws for Ability has placed approximately 700 service dogs with children with disabilities.
"Our goal has always been to enrich the lives of children with disabilities by the training and placement of quality, task trained service dogs to provide increased independence for the children and assistance to their families. And we think cause-marketing with PIF will prove to work hand-in-hand with our everyday intentions as a team," continued Shirk.
Today, placing approximately 100 dogs a year, 4 Paws For Ability is the largest organization whose primary mission is to place service dogs with children and one of the only organizations to have no minimum age requirements. We place almost every type of service dog available and never turn down a child who does not "fit" into one of the traditional service dog categories. Our Multipurpose Assistance Dog is a dog that encompasses all those children who do not fit into the traditional service dog types and/or who have disabilities that fit into more than one type of dog trained.
Many of the families who come to 4 Paws do so asking if we can help their child who may have a disability not addressed by any of the service dog agencies they have located. While some children, for example children who have only the diagnosis of Autism, fit clearly into a specific type of service dog, (The Autism Assistance Dog), many of our families have children with multiple issues, or diagnoses that do not seem to be addressed directly in the typical service dog categories, for example Down's Syndrome, Fragile X, Apraxia, ADHD, a variety of mental health diagnosis, life threatening medical illnesses such as cancer, and medically frail children, to name a very few.
For additional information or for interview opportunities, contact Jessica Noll at 937.768.9096 or email to Jessica4Paws(at)aol(dot)com.
4 Paws for Ability is a nonprofit, 501(c)(3) organization whose mission is to place quality service dogs with children with disabilities and veterans who have lost use of limbs or hearing; help with animal rescue, and educate the public regarding use of service dogs in public places. 4 Paws for Ability relies on the generosity of individuals, as well as corporations, and accepts donations for operating expenses, training, food, toys, training supplies, medication, and our building fund.
4 Paws for Ability is located at 253 Dayton Ave., in Xenia, Ohio. Visit us at http://www.4PawsForAbility.org, "like" us on Facebook and follow us on Twitter.