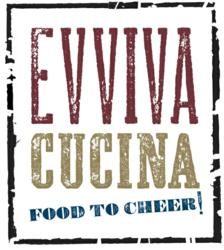 Westford, MA (PRWEB) March 03, 2013
When Evviva Cucina, opens its doors on March 18th, 2013 in Westford, MA customers will experience a completely new suburban dining experience.
The new 152-seat restaurant set to open in Cornerstone Square is billed as an "Italian-Inspired Pizza Bar and Kitchen," playing host to fresh and playful renditions of artisanal pizzas, from-scratch pastas, panini, salads and desserts.
The restaurant will also have a 31-seat bar offering draft and canned beers, unique wines and inspired cocktails. With 16 draft beers on tap, 22 wines by the glass and a seasonal cocktail list, the bar will have something fresh and new for everyone.
The modern and approachable interior designed by J. D. LaGrasse & Associates, Inc. will be transparent in its look and feel with a completely open kitchen and a stone hearth oven at its center. Technology is a big part of the concept, with servers using electronic handheld ordering devices, a state of the art music system and 80" televisions throughout the restaurant.
Partners Kevin Harron, Nick Harron and Cornerstone Square Developer, Robert Walker, set out to create an approachable and scalable concept that could speak to numerous customers.
"I think the modern restaurant guest has become highly sophisticated and wants a lot from their neighborhood restaurant. The restaurant that speaks to the most needs of that guest is doing it right," said Kevin Harron, one of the partners in Evviva Cucina. Harron should know, as CEO and President of a separate venture, the highly successful Burtons Grill, which has grown to ten locations from Massachusetts to South Carolina.
Evviva Cucina will be a polished-casual concept with a lively social scene, but takeout will also be a focus driven by a strong-online ordering system. A market-like "grab and go" section will also be offered for diners on the move.
"We're excited for all that Evviva Cucina is going to be. We've researched this concept, our ingredients and we truly set out to make the best pizza out there," said Nick Harron, Partner and General Manager.
Evviva Cucina will be open for both lunch and dinner beginning Monday, March 18th, 2013. Takeout will also be available. For more information please visit: http://www.evvivacucina.com
Where: Evviva Cucina | 7 Cornerstone Square, Westford MA 01886 | P: 978-692-9050 | http://www.evvivacucina.com
When: Monday, March 18th, 2013, 11:00AM
Hours: Monday-Thursday 11:00AM - 10:00PM, Friday and Saturday 11:00AM - 11:30PM, and Sunday 12:00PM - 9:00PM.
Menu:
Stone Hearth Oven Pizza
Neapolitan Style
Traditionally prepared with Caputo "00" Flour, house made sauce from imported Italian tomatoes, then hand stretched and topped with a variety of ingredients.
Individual or Regular
La Montanara
Originally from Naples, flash fried, then topped and finished in our stone hearth oven. Light, airy, crisp, and faintly sweet.
**Individual Only**
Evviva Margherita- Tomato sauce, Maplebrook Farms mozzarella, fresh basil 9/13
Scampi- Garlic, feta, marinated tomato, wild shrimp 11/15
Chicken Fried Pizza- Panko crusted free range chicken, Vermont cheddar, grilled red onion, BBQ sauce and honey mustard sauce 10/14
The Meathead- Mozzarella, sausage, pepperoni and chicken meatballs 11/15
The Ballpark- All natural hot dogs, Vermont cheddar, giardinera relish, and house made ketchup on "Pretzel" crust 9/13
Free Bird- Free range chicken, mozzarella, Vermont goat cheese, arugula and lemon vinaigrette 10/14
Pig & Pine- Sliced pork loin, mozzarella, grilled red onion, pineapple 10/14
Athena- Feta, olives, marinated tomatoes, banana peppers, grilled red onions, arugula and lemon vinaigrette 9/13
The Tater- Crispy seasoned potatoes, pancetta, Vermont cheddar, chive sour cream 9/13
Woodstock- Oven roasted vegetables, blue cheese, roasted grape tomatoes, balsamic vinegar 10/14
The Standard- Tomato sauce, mozzarella, provolone, and parmigianno reggiano 9/13
**Feel free to combine any of the ingredients to "Top Your Own" pizza for $1.00 per topping for individual pizzas, $1.50 per topping for regular**
Evviva Cucina sources the finest local and regional ingredients, including All Natural and Hormone Free Beef, Pork, and Poultry when available
Apps
Bruschetta- Our chef's daily selection of ingredients on crusty grilled bread 7
Fonduta- Artisan cheeses baked in our stone hearth oven with fresh herb foccacia 9
Crispy Potatoes- Fried crispy, and topped with romesco sauce, parmigianno reggiano 7
Evviva Antipasto- selection of marinated vegetables, cheeses and meats, and focaccia 11
Salads
House Salad- Artisan greens, radishes, red onion, olive medley, grape tomato, croutons, Evviva dressing 6
Cucumber, Pear, and Fennel- Asian pears, cucumbers, fennel, artisan greens, strawberries, lemon vinaigrette, blue cheese 7
Panzanella- Grape tomato, kalamatta olives, cucumbers, red onion, roasted red pepper, Maplebrook Farms mozzarella, arugula, romaine, croutons, white balsamic vinaigrette 8
Crispy Calamari Salad 12
Maplebrook Burrata Caprese 11
Sandwiches
Fried Green Tomato BLT-Herbed mayo, Panko crusted fried green tomato, crispy pancetta, arugula 7
Italian-Prosciutto di parma, imported salami & hot capicola, Maplebrook Farms mozzarella, roasted red bell peppers, marinated tomato, red onion, arugula 9
Porco- Shaved pork loin, provolone, giardinera, romesco sauce 9
Chicken Meatball- Red sauce, parmigianno reggiano, provolone 8
Scamorza Chicken- All natural chicken, crispy pancetta, Maine tomato, scamorza, artisan greens, herbed goat spread, pressed on sliced ciabatta with garlic butter 8
Pork Parmesan- Panko encrusted pork loin, parmigianno reggiano, Maplebrook Farms mozzarella, lemon vinaigrette, arugula, pressed on sliced ciabatta with garlic butter 8
Grilled Cheese- Maplebrook Farms mozzarella, sharp provolone, parmigianno reggiano, Maine tomatoes, romesco, pressed on sliced ciabatta with garlic butter 6
Roasted Vegetable Sandwich- Portabella, zucchini, roasted red bell pepper, Maine tomato, provolone, herbed goat spread, balsamic reduction, pressed on sliced ciabatta with garlic butter 8
Pasta
Rigatoni Calabrese- Sausage Ragu, Maplebrook Farms Mozzarella, panko herb crumbs 12
Pasta Pescara-Shrimp, mussels, green onions, diced tomato, pescara cream sauce, and finished with spiced bread crumbs 14
Primavera- Summer squash, broccolini, red pepper, artichoke hearts, fresh fettucine in a roasted garlic herb sauce 12
Gluten Free Spaghetti With Meatballs- Chicken meatballs, linguine, tomato sauce, parmigianno reggiano crisp 13
Cannelloni- Chef's selection of filling 13
Plates
Spicy Italian Shrimp and Grits- Wild shrimp, arrabiata sauce, polenta 12
Pan Seared Fish- Rainbow chard, roasted tomato and pine nut vinaigrette 13
Grilled Pork Chop- Free Range pork chop, pancetta, mushroom, and brussel sprout risotto 15
Stuffed Chicken- Crispy potatoes and parmigianno reggiano 13
Braised Veal Osso Bucco- Creamy polenta 14
Sides
Caramelized Brussels Sprouts-Crispy Pancetta and Caramelized Shallots With Bourbon Butter 5
Chef's Risotto 6
Rainbow Chard- Roasted pine nuts, lemon, & garlic 5
Broccolini- Feta, romesco, roasted pine nuts 5
Desserts
Cannoli 5
Gelato 6
Zeppoli with Homemade Nutella and Gelato 7
###
About Evviva Cucina:
Evviva Cucina is an Italian inspired kitchen and bar specializing in artisan pizza, delicious paninis, fresh salads, home-made pasta, craft beer, and great drinks for people of all ages. Our commitment to quick casual lunch service is created to meet everyone's needs. Boasting an exciting and upbeat atmosphere, great music, and five 80 inch flat screen T.V.'s. We have established a strong focus on sustainability, locally sourced ingredients, green practices, and environmental responsibility. Opening in March of 2013, Evviva Cucina is excited to show the community that our kitchen is something to Cheer about! http://www.evvivacucina.com