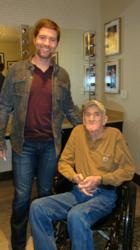 The two swapped stories of their favorite country tunes. 'I felt pretty special,' McNeil said.
Nashville, TN (PRWEB) March 06, 2013
Kenneth McNeil, 75, knows just about every country artist of the past seven decades. He can sing along to almost every song, but pays special attention to Josh Turner - "the young one who sounds like Johnny Cash."
"He's got that nice deep voice," McNeil said, comparing Turner to the late Cash.
But McNeil, now a Passages Hospice patient in El Dorado, Illinois, didn't want to just listen to Turner on the radio anymore. He shared a wish with caregivers - to visit the iconic Grand Ole Opry and see Turner in concert.
Nonprofit organization Hospice Dreams contacted Turner to explain McNeil's wish. Turner, who first partnered with Hospice Dreams on a wish in 2011, was glad to be a part of another Dream. As an extra gesture, Turner helped arrange for McNeil to have a behind-the-scenes tour and exclusive visit with the star.
Although Turner was running late, he welcomed McNeil and his family back stage, where the two swapped stories of their favorite country tunes. After photos, Turner autographed memorabilia for his fan.
"I felt pretty special," the usually-stoic McNeil said. "He was awfully nice."
To complete his Nashville trip, the local Doubletree Hotel donated a night's stay for the McNeil family.
For more information about Hospice Dreams, or to grant a hospice patient's Dream through a donation, visit http://www.hospicedreams.org or call 888-741-9132.