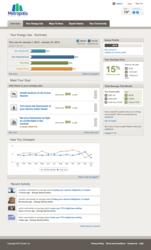 Tendril Energize is an energy consumer engagement solution that embodies paper, Web dashboard and mobile applications.
Boulder, CO (PRWEB) March 04, 2013
Tendril®, the leader in delivering consumer engagement applications and services, has been chosen to receive the 2012 Climate Change Business Journal® (CCBJ) Award for Technology Merit: Smart Grid and Energy Management. CCBJ is a business research publication that provides high-value strategic business intelligence to the climate change industry.
According to CCBJ, Tendril was selected based on its pioneering technology for the home energy management (HEM) market and the ability of its technology to enable residents to monitor their energy consumption and manage their usage for greater efficiency and to participate in residential demand response (DR) programs.
"We are honored to receive this reward," said Adrian Tuck, CEO of Tendril. "It's gratifying to have the work we're doing to transform the world's energy consumption behavior honored by organizations like CCBJ, particularly given their focus on environmental sustainability. Enabling a greener tomorrow is something everyone at Tendril is passionate about."
The 2012 CCBJ Business Achievement Awards will be presented to recipients at a special ceremony at the eleventh annual Environmental Industry Summit in Coronado, Calif. on March 6-8, 2013. Some 34 companies, including Tendril, will be honored for "business achievement in revenue growth, smart grid and energy management, low carbon and renewable power, energy efficiency innovation, renewable energy integration, climate change adaptation projects, NGO activity and more."
"In an industry that has just managed to out-perform the overall economy but still presents challenges in many segments, a number of companies have achieved double-digit growth, sustained high profitability, built solid backlog, made successful forays into new practice areas or geographic markets, or developed technologies that can help build a more sustainable economy," said Grant Ferrier, president of Environmental Business International Inc. (EBI, San Diego), publisher of CCBJ.
About Tendril
Tendril is changing the way the world uses energy with its groundbreaking consumer engagement applications and services. Energy providers, product manufacturers, and consumer channel partners use Tendril's solutions to foster deeper consumer relationships, differentiate their products, achieve business objectives and drive increased value over the lifetime of the consumer. The company's flagship application suite, Tendril Energize™ delivers the insight, choice and control utilities and consumers need to meet their energy management goals. All of its solutions are built on Tendril Connect™, a software platform that integrates an ecosystem of product and service providers, enabling them to engage consumers and seamlessly engage, extend and evolve their offerings.
Tendril works with energy providers, as well as product and service providers, across the globe. In 2012, the company opened its platform to developers to support the creation of an open application marketplace. It now has more than 500 developers registered in the program and more than 20 applications have been built using Tendril Connect.
Tendril is headquartered in Boulder, Colo. It is venture backed by VantagePoint Capital Partners, Siemens Venture Capital (SVC), Good Energies, RRE Ventures and GE. For more information, visit http://www.tendrilinc.com.
###