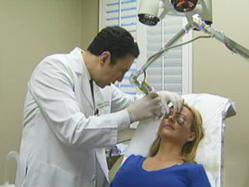 It is easy to forget the effect that the sun can have on unprotected skin. Simple sunscreen application can prevent a wealth of potential issues.
Los Angeles, California (PRWEB) March 02, 2013
According to a recent article published by Shape Magazine, there are potential skin afflictions that may be caused by exercise. It is normal for a person to experience body aches and pains after a workout, but one particular problem that is rarely considered is sun damage. When one runs outdoors, it is common to forget to apply sunscreen. Over time, from a cosmetic perspective, this may lead to premature aging, to sunspots, and wrinkles. (Go to: goo.gl/tk0Dk)
"I can't caution my patients enough about the dangers of sun damage," says Dr. Simon Ourian, Medical Director of Epione Beverly Hills. "Leaving aside for now the heightened susceptibility to skin cancer, the wrinkling and premature aging caused by the sun is likely the number one aesthetic issue faced by my patients."
As a first line of defense, Dr. Ourian offers the simple advice of staying out of the sun as much as possible. When that's not an option, cover up and wear a hat. And, of course, use a sun block with SPF 30 or higher every day.
To treat sun damage Epione offers the CoolFractional laser skin resurfacing technique. CoolFractional laser removes the top layer of skin, triggering the body's natural healing processes and encouraging collagen production.
The Shape Magazine report also mentions sweat-induced acne, ingrown hairs, and inflammatory skin conditions as other potential exercise-induced hazards.
"It is easy to forget the effect that the sun can have on unprotected skin," says Dr. Ourian. "Simple sunscreen application can prevent a wealth of potential issues."
Dr. Ourian has been a pioneer in laser technology and non-invasive aesthetic procedures including Restylane, Juvéderm, Radiesse and Sculptra. These treatments are used for the correction or reversal of a variety of conditions such as acne, acne scars, skin discoloration, wrinkles, stretch marks, varicose veins, cellulite, and others. More information about sun damage can found on Epione's website