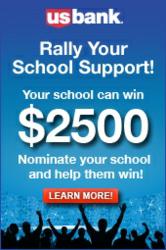 U.S. Bank has done so much for high school activities here in New Mexico as an NMAA sponsor, and now they are taking this even further with the Rally4Reward$ program
Portland, OR and Albuqueque, N.M. (PRWEB) March 05, 2013
U.S. Bank today launched its innovative social media rewards program, Rally4Reward$, in conjunction with the New Mexico Activities Association (NMAA). U.S. Bank is encouraging students, parents and community supporters of high schools in New Mexico to enter Rally4Reward$ and compete for six $2,500 cash awards. The program is an integrated social media and a traditional enter-to-win on-site program to reward NMAA high schools in New Mexico with funds for programs and activities using a social media application from CafeGive.
The program is a joint effort between U.S. Bank and the NMAA. Schools are awarded points when the community participates. One high school in each of NMAA's six athletic divisions that earns the most points will be rewarded $2,500. Awards are intended to fund any program or activity at the winning schools.
This is the third Rally4Reward$ program implemented by U.S. Bank. Other participating states included Oregon and Nebraska, bringing the award total to $45,000 to participating schools.
"U.S. Bank has done so much for high school activities here in New Mexico as an NMAA sponsor, and now they are taking this even further with the Rally4Reward$ program," said Sally Marquez, executive director of NMAA. "We are excited to partner with U.S. Bank in this endeavor as we know our member schools, and most importantly our students, will directly benefit from the program."
How the program works
To nominate a high school and start earning points, participants need to visit U.S. Bank's Facebook page at http://www.facebook.com/usbank, and click on the Rally4Reward$ New Mexico tab. Nomination points can be earned both on-line and by printing out the nomination form and visiting any U.S. Bank branch in New Mexico. Existing customers, new customers and visitors are all awarded points for the school they nominated when they visit any U.S. Bank branch in New Mexico and drop off their nomination forms.
Cash rewards of $2,500 each will be given to the six schools earning the most points in the Rally4Reward$ program in the state. Schools in each of NMAA's categories for athletic programs are eligible, so the competition is between schools of similar size. The program launched today and will complete on April 28, 2013.
This is the first scholastic giving program that takes the bank's support to social media. The program was developed with CafeGive, and takes advantage of their social marketing platform and web and social media applications designed to help companies engage with fans on a website, or in social media, and to enhance a traditional in store promotion.
By using CafeGive, Rally4Reward$ can be shared via Facebook and Twitter by friends to reach high school supporters quickly and easily. Parents and community supporters are encouraged to participate and to show support for their local New Mexico high school.
U.S. Bank is the exclusive bank of the NMAA and is the title sponsor of the NMAA State Football, Basketball, and Track & Field Championships.
About New Mexico Activities Association (NMAA)
The New Mexico Activities Association was formed in 1921 as a private/non-profit organization whose principle purpose is the regulation, direction, administration and supervision of interscholastic activities in the State of New Mexico. The NMAA prides itself in its leadership, providing educational and social experiences for the students and communities of New Mexico. The NMAA has taken a leadership role nationally in several areas, including sportsmanship, media relations, coaches preparation, corporate development and interscholastic activities. Visit the NMAA on the web at http://www.nmatc.org.
About U.S. Bancorp
U.S. Bank operates 33 branches and employs more than 350 people in New Mexico. U.S. Bancorp (NYSE: USB), with $354 billion in assets as of Dec. 31, 2012, is the parent company of U.S. Bank, the 5th largest commercial bank in the United States. The company operates 3,084 banking offices in 25 states and 5,065 ATMs, and provides a comprehensive line of banking, brokerage, insurance, investment, mortgage, trust and payment services products to consumers, businesses and institutions. Visit U.S. Bancorp on the web at http://www.usbank.com.
About CafeGive
CafeGive is the only company that combines social media marketing with meaningful, action-oriented cause marketing applications. Using our product, CafeGive Social, we have helped companies, agencies and nonprofits of all sizes connect with customers to build brand, enhance reputation, raise awareness and effect social change. Headquartered in Portland, Oregon, CafeGive is a privately held company. For more information visit CafeGive at http://www.cafegive.com.