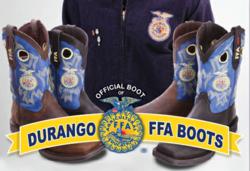 Springfield, MO (PRWEB) March 04, 2013
Durango has introduced a new collection of boots designed for members and alumni of the National FFA (Future Farmers of America) Organization. The brand will also donate $5 to the FFA for every pair sold, with a minimum donation of $25,000.
PFI Western Store decided to take it a step further. In partnership with the Missouri State FFA and the Darr School of Agriculture, for every FFA Durango boot sold at PFI or online at PFIWestern.com, an additional $5 will go back to Missouri students. The money will be split between the Missouri FFA Leadership Fund and Missouri State University's School of Agriculture.
The FFA Boot, by Durango, is made in both men's and women's styles. The cowboy boots are constructed with either black or brown full-grain leather and a synthetic shaft decorated in the blue and gold of the organization. The outsole features a bright FFA-themed graphic, giving the boots an extra pop of color.