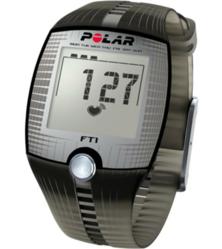 What a lot of people don't realize is that Polar is the only heart rate monitor out there that broadcasts at a 5 kHz transmission signal, so it is the only one that will work in the water
Bozeman, MT (PRWEB) March 02, 2013
The Polar FT1 and FT2 heart rate monitors are the best budget-conscious heart rate monitors for those wishing to receive heart rate data in the water according to the Heart Rate Watch Company.
"What a lot of people don't realize is that Polar is the only heart rate monitor out there that broadcasts at a 5 kHz transmission signal, so it is the only one that will work in the water", says Rusty Squire, President of the Heart Rate Watch Company. He adds, "Polar further recommends the use of the Polar T31 Coded chest strap for use in chlorinated or salt water".
Since the Polar FT2 and FT1 already come with the T31 chest strap it avoids having to purchase one separately, as would be required with any of the other FT series watches. "The Polar RS400 also works well for swimming but the T31 coded chest strap is an add-on", says Squire.
Of course, the Polar RCX5, which was designed as Polar's triathlon watch is also a good choice for swimming, but the soft strap is not as reliable in the water as the T31 coded strap, so it pays to get both for people desiring to record heart rate data swimming according to Squire.
THE HOLY GRAIL OF SWIMMING
The real holy grail of swimming is a watch that will do laps, strokes and heart rate. "Unfortunately no such watch exists yet", says Squire. He adds, "We have been looking for one for years and we get a lot of requests for it".
"A company named Swimovate who makes the Poolmate swim watch promised a watch that did laps, strokes and heart rate over a year ago but it never made it out, so we aren't holding our breath", says Squire. If, and when, such a product does get introduced to market Squire says it will be a big seller if it is accurate.
For now the Polar FT1 and FT2 are the best bet for swimmers.