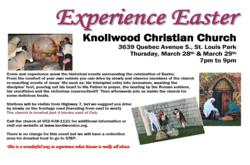 Knollwood Christian Church
3639 Quebec Ave S
St. Louis Park, MN
March 28th and March 29th
Hours: 7:00 - 9:00 pm - Free
St. Louis Park, MN (PRWEB) March 02, 2013
Come and experience anew the historical events surrounding the celebration of Easter.
Spectators can view the Easter event from the comfort of their own vehicles by driving by slowly and observe members of the church re-enacting events of Jesus' life such as: His triumphal entry into Jerusalem, washing the disciples' feet, pouring out His heart to His Father in prayer, the beating by the Roman soldiers, His crucifixion and the victorious resurrection. Then afterwards viewers may join us inside the church for some delicious treats.
Stations will be visible from Highway 7, but it is suggested spectators drive by slowly on the frontage road (traveling from east to west). The church is located just 4 blocks east of Cub.
Call the church at 952-938-1121 for additional information or visit our website at http://www.knollwoodcc.org.
There is no charge for this event but we will have a collection area for donated food to go to STEP.
This is a wonderful way to experience what Easter is really all about.