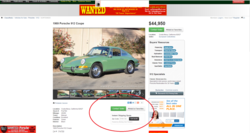 Montway auto hauling costs calculator is the perfect complement to Hemmings online marketplace.
(PRWEB) March 01, 2013
Montway Auto Transport team of developers has launched instant car shipping rates calculator on Hemmings dot com. Just two months ago, Montway announced their sponsoring of Hemmings TV and now the partnership has expanded to offer more support to the classic vehicle lovers. Hemmings is one of the world's largest classic car communities and marketplaces with an incredible collection of classic vehicles for sale. The new partnership will ensure easy and fast access to auto delivery costs for Hemmings dot com buyers, dealers and private sellers.
Collectors shopping for a vintage automobile will be able to quickly identify a door-to-door transport and delivery rates at the price comparison stage that is critical to locating the best bargains. Montway's Hemmings dot com on-page quote widget gives classic car dealers access to an expanded marketplace by giving them instant vehicle shipping information to help them make more informed car buying decisions.
Montway provides seamless and easy to use technology. When classic car shoppers spot a vehicle they want, all they need to provide is the shipping zip code and the calculator will display the price in seconds. Upon clicking the 'Click for More Info" button, they will be taken to the quote and booking page on Montway.com. From there, shoppers can email the quote, save it for 30 days and then come back to book the same price. At the booking page, they will have the option to choose between open auto transport and enclosed car shipping service. It's fast and easy to schedule the whole shipping process online. Cargo insurance is included in the rate and no personal info is required to obtain the quote.
"Our expanded partnership with Hemmings dot com and the integrated car shipping rates calculator we've developed for their visitors demonstrates our continued dedication to expanding the classic vehicle marketplace for buyers and sellers alike. By making auto delivery rates easy to access on the car listing page, we make comparison shopping easier for buyers," said Mike Mihailov President and CEO of Montway Auto Transport.
Montway auto hauling costs calculator is the perfect complement to Hemmings online marketplace. The company's carrier fleet is growing and they are constantly adding new technical features to make nationwide auto shipping easier.
About Montway Auto Transport
Montway Auto Transport is an award-winning, five-star rated, car moving and vehicle shipping company, based just outside Chicago in Des Plaines, Illinois. By providing fast, secure and reliable door-to-door automobile delivery, Montway's earned the trust of car dealers, classic car collectors and everyday car owners alike. They offer free online auto transport quote's and affordable automotive shipping services to customers ranging from the owners of luxury automobiles and classic collector vehicles to regular car, truck or van owners.
Because they move over 20,000 vehicles a year, they not only maintain a private fleet of open and enclosed car carriers, they're also licensed to access independent vehicle hauling fleets nationwide. So, whether you need your car transported from Florida to California, your van shipped from Texas to Massachusetts or your truck moved from New York to Illinois, Montway has you covered. Just visit them online at Montway dot com or call 888-666-8929 to speak to a vehicle relocation specialist today.