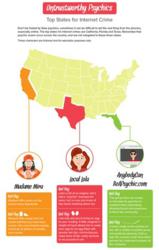 Psychic scams are a common type of fraud. Psychic Source is taking action to address this issue.
Langhorne, PA (PRWEB) March 05, 2013
Anyone who's consulted a psychic has probably wondered, at one point or another: Is this real, or is it a scam?
Unfortunately, there are many scam artists out there who abuse the trust of the unsuspecting public, offering expensive remedies to imaginary problems and threatening dire consequences if customers fail to pay large sums of money.
In a new campaign to educate its customers and the general public about psychic scams, Psychic Source – the most trusted psychic service for over 20 years – is alerting people to the most common types of scams and providing guidance on how to avoid falling prey to fraudulent psychics.
Among the warning signs, according to Psychic Source, are: being asked to pay money for remedies; when your psychic has no online reviews or reputation; and if the only reviews are effusively glowing and written in perfectly grammatical sentences.
Often psychic scams involve scaring people into believing they're cursed and then demanding exorbitant fees to "remove" the curse. One way of doing this is the "bloody egg" trick, which involves switching a regular egg with an egg full of fake red blood – supposedly a bad omen or a sign that a person is in trouble.
In contrast to the scare tactics and blood eggs of the tricksters and scammers, Psychic Source has over 300 authentic psychic advisors who have been verified through rigorous screenings and interviews. Fewer than one in 150 applicants make the cut. In addition, reviews on PsychicSource.com are unedited accounts by real customers who have had readings. And, of course, at Psychic Source there are no hidden fees or charges.
In other words, if you want to know how to avoid psychic scams, go to Psychic Source to see how a genuine psychic service operates.
About Psychic Source:
Founded in 1989, Psychic Source is the nation's oldest and most respected psychic service. Psychic Source's advisors are experts in astrology, horoscopes, numerology, tarot cards, clairvoyant readings, and many other psychic disciplines. Psychic Source believes in its community of authentic Psychics and stands behind the authentic psychic readings they deliver to clients. Visit them online at http://www.psychicsource.com.
For more information, contact:
Maryanne Fiedler, Marketing Director
maryanne(at)psychicsource(dot)com
215-953-8568