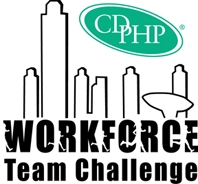 Albany, NY (PRWEB) March 04, 2013
Mark your calendars! The CDPHP® Workforce Team Challenge – the largest annual road race between Utica and New York City – is less than three months away. The race brings thousands of participants to downtown Albany each year, with more than 9,300 people representing nearly 450 organizations taking part in last year's event.
The runners and walkers will take their marks at 6:25 p.m. Thursday, May 16, lining up in front of the New York State Museum on Madison Avenue in Albany. This year, for the first time in its 33-year history, the 3.5-mile road race will feature chip timing, so that each participant's time will be electronically recorded.
The event is organized by, and serves as the major fundraiser for, the Hudson Mohawk Road Runners Club (HMRRC). The funds raised help underwrite many of HMRRC's activities and services, including college scholarships, grants, running clinics and the JustRun Program for its grade school runners. Race proceeds also benefit two nonprofit organizations chosen by the club each year.
Training for this year's race couldn't be any easier with CDPHP® InMotion – a free fitness tracking site that is available online or on-the-go with the InMotion mobile app. Runners and walkers can set up a training schedule, map their routes and log their miles. There are options available for everyone – from beginners to experts.
Participants can also share their experiences on CDPHP's Facebook Event page and on Twitter using #WFTC13 as they gear up for the race.
Each year, HMRRC selects "charities of choice" and encourages sponsors and participants to support the organizations by adding contributions to their registration fee. For the 2013 race, HMRRC has chosen the Double H Ranch, which provides specialized programs and year-round support for children and their families dealing with life-threatening illnesses, and Capital District Community Gardens, a 38-year-old nonprofit that nourishes healthy communities by providing access to fresh food and green spaces for all.
"CDPHP is thrilled to partner once again with the Hudson Mohawk Road Runners Club and serve as title sponsor of the Workforce Team Challenge," said John D. Bennett, MD, president and CEO, CDPHP. "The runners and walkers not only commit to an active and healthy lifestyle; they also generously support these deserving charities."
"We are looking forward to a great race and community event as HMRRC and CDPHP continue their strong partnership. We are also excited to give additional support to Double H Ranch and Capital District Community Gardens," said Mark Warner, race director. "The CDPHP Workforce Team Challenge is a great opportunity to get out with your co-workers for a healthy and fun evening in downtown Albany."
Now is the time to lace up those sneakers and register your team today!
About CDPHP®
Established in 1984, CDPHP is a physician-founded, member-focused and community-based not-for-profit health plan that offers high-quality affordable health insurance plans to members in 24 counties throughout New York. CDPHP is also on Facebook, Twitter, LinkedIn and Pinterest.
About the Hudson-Mohawk Road Runners Club (HMRRC)
The Hudson-Mohawk Road Runners Club is the Albany area's largest running organization. The club was formed in 1971 and today has nearly 3,000 members who come in all shapes and sizes and from all walks of life, as well as different running styles and speeds. Members are united in their love of running and desire to promote and participate in quality races and running-related activities. The club organizes more than 30 running events a year from a mile to a marathon at many different locations throughout the Capital District. These events offer something for everyone, novice and veteran alike.