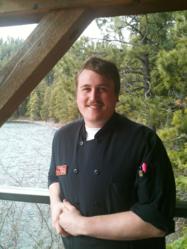 Sisters, OR (PRWEB) March 03, 2013
The Lodge at Suttle Lake is pleased to announce the appointment of Corey J. Whalen as Executive Chef to oversee its restaurant, The Boathouse, and its banqueting services.
Whalen brings more than 10 years experience in luxury hotels and restaurants to his role, including chef positions at Meriwether's Restaurant & Skyline Farms, and Salty's on the Columbia, both in Portland.
The Wyoming native who grew up in a small tourist town of just six thousand people, said he jumped at the opportunity to work at The Lodge at Suttle Lake, which has been honored with several industry awards following its re-established year round restaurant last May. The most recent accolades were Sunset Magazines' "Most Romantic Lake Escape" and Trip Advisors "Certificate of Excellence 2012".
"I had heard many good things about the property and was excited to work with Curtis Coronado and his team at the Lodge," Whalen said. "Suttle Lake's reputation is that of a first-class, luxury destination that provides a unique and memorable guest experience, and this is recognized by the many awards it has won. I feel privileged to be a part of this team."
Whalen began his culinary journey in Bozeman, Montana where traditional schooling took a back seat to entertaining and cooking for his extended friends and family. "When I realized I looked more forward to what I was going to cook this coming up week, instead of what I was learning, I needed a career change." After moving to Portland, Oregon and attending Le Cordon Bleu Culinary School, his dream was finally realized when he took his first position in a professional kitchen. "I started off at the bottom of the totem pole and worked every station in a busy kitchen. I was given the responsibility to create nightly specials during my shift and felt the surge of creativeness flowing and knew I had found my calling. From there I was able to hone my passion for local and sustainable farm to table food service."
With Whalen's ability to create seasonal menus and utilize product that is available locally, he has brought a part of Portland with him. Whalen already has several local businesses involved in his winter menu and is looking forward to including more local Central Oregon farms in progressive menus. "My hope is to create a program where not only are we able to keep up with the demand of our guests in the busy summer months but to have eighty percent of the menu sourced with-in one hundred and fifty miles of the Lodge. To my knowledge, no other local area restaurant is pushing this hard to create a community food network where everyone can grow their businesses together." With a passion for farm to table, Whalen has also taken on creating a community garden and greenhouse where he hopes to grow enough fresh herbs and produce to supply his restaurant year-round.