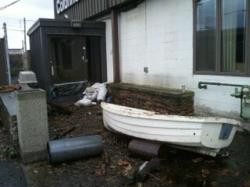 I knew we had to save what we could and put one foot in front of the other. I tried to focus on what was okay and to appreciate every small thing.
Wood-Ridge, New Jersey (PRWEB) March 02, 2013
Ronnie Smith, president of the author's submission service Writer's Relief, could not have anticipated the devastating effect Superstorm Sandy would have on her New Jersey business.
"I knew there was a danger of some flooding since we were near the Hackensack River, but we were located on the second floor, so we figured it would okay," says Smith.
Since 1994, Writer's Relief has been helping creative writers submit their work for publication, and the business has remained strong through recessions, post-9/11 mail scares, industry fluctuations, and more. After Superstorm Sandy hit, it seemed it might be the end of the line.
Smith made her way through road barricades and flooded streets and returned to her office the morning after the storm. She found a rowboat blocking the doorway and pieces of the roof lying in the parking lot.
"I was afraid to climb the steps into our office," says Smith. "Our landlord's first floor office had five feet of water. And because the hurricane winds tore the roof off, nearly everything in our second-floor office was ruined. People don't realize that Sandy devastated people's lives so far beyond the coast."
Most of the office was destroyed. Computers, chairs, printers, phones, files—everything was soaked.
"For a second I just stood there, and then I went on autopilot," says Smith. "I knew we had to save what we could and put one foot in front of the other. I tried to focus on what was okay and to appreciate every small thing. When we realized our computer data and client files were safe, I believed the rest would work itself out."
It didn't take long for Smith to rally. With twenty employees and over three hundred creative writers counting on her, Smith says she knew the survival of her business depended on swift action. "We salvaged as much as possible, then filled dumpsters," Smith recalls.
Smith immediately called everyone she knew in an effort to find temporary office space. Without heat and with only a few flashlights to navigate soaked stairwells, staff members and kind volunteers moved the office contents into a smaller office in Saddle Brook, one box at a time. It was one of the few spaces in the area that had power. Frank Teresi, who at 90 years old is the company's oldest employee, recalls the cleanup. "Everyone was exhausted. Nobody had power or water. It was freezing. Some had lost their homes and cars, or had family members who lost them. People were panicking about the lack of gasoline. But you know what? It brought out the best in us. And within three days, we were in a new place."
The trials of hurricane Sandy were far from over. At only 850-square feet, the temporary office was one-quarter the size of what the company needed. And Smith notes that losing the digital infrastructure was almost as difficult as losing the building itself.
"It went on for months, and we were totally exhausted," Smith says. Each day, something new went wrong. We sat shoulder to shoulder, using rented laptops on folding tables. Network wires were hanging out of the ceiling tiles and our Internet connection would regularly quit on us. The printers randomly stopped working. Our mail was delayed up to a month because it was being forwarded to Massachusetts, then back down to New Jersey. Instead of a sophisticated phone system, we used one cell phone and passed it around the office. We held a mini holiday party in the hallway right outside the bathroom doors. Some of those memories make me laugh now."
But staffers were not to be deterred. Since 1994, Smith says, the company has never missed a deadline for clients. And Smith was not about to let Hurricane Sandy break her perfect record. With staffers working around the clock and on the weekends, the company stayed on track. "My staff was amazing; they worked so hard for our clients, and for me."
Now, Writer's Relief has found a new, permanent home above Valley National Bank in Wood-Ridge, with plenty of room and parking.
"I can't tell you how great the town of Wood-Ridge was in helping us," Smith says. "Valley National Bank fast-tracked our application. The town efficiently processed our inspections and permits. Finally, there's light at the end of the tunnel. We've accomplished so much in these months. We can begin to settle down again."
All the pieces are back together, and Writer's Relief is now located at 207 Hackensack Street in Wood-Ridge. Learn more about the company's services for creative writers on the Writer's Relief website.
About Writer's Relief: Writer's Relief is a highly recommended author's submission service that has been serving the creative writing community since 1994. The company helps book authors with the process of submitting their work to literary agents, and it helps writers of poetry, short stories, and essays to submit to literary journals for publication. Clients are accepted by invitation only and have included award-winning bestsellers and promising unknowns. Writers are invited to take advantages of the many free resources on the website, including free publishing leads and submission strategy tips.
Contact:
Ronnie Smith, President
Writer's Relief, Inc.
207 Hackensack Street
2nd Floor Wood-Ridge, NJ 07075
866-405-3003
http://www.WritersRelief.com
info(at)wrelief(dot)com