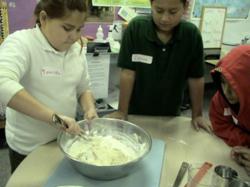 When you prepare your own food it's something different. Washing your own vegetables is like more than pulling off a wrapper. You earn your food
Albuquerque, New Mexcio (PRWEB) March 04, 2013
Some 15 percent of New Mexico adolescents are overweight, according to the US Center for Disease Control (CDC), with 60 percent of New Mexico adults in the same boat. A poor diet can increase one's risk for being overweight, leading to health issues and high cost medical care. Community association management company, AAM wants to help make a difference by supporting an organization gives kids the right tools to make smart choices.
"Teaching children proper nutrition in a fun and engaging way can create a lifetime of healthy food choices and minimize diseases associated with obesity," said Mary Meyer, director of Kids Cook! ™ in Albuquerque. AAM recently donated $1,000 to the Kids Cook! program and plans to engage its New Mexico staff with the non-profit organization.
Kids Cook! works with New Mexico elementary schools to teach nutrition and proper food preparation through hands-on classes where the children learn they can impact their own health by preparing foods that are nutritious and appealing. The culinary theme is combined with the importance of exercise in having a healthy life. "When you prepare your own food it's something different. Washing your own vegetables is like more than pulling off a wrapper. You earn your food," noted an astute Julia, age 9.
"AAM's support of Kids Cook! is part of our 'Creating a Better America, One Neighborhood at a Time' program. We believe that encouraging strong families and neighborhoods is the way to create a vibrant and connected community," said Ken Inskeep, CAAM, AAM Director of New Mexico Operations.
The idea is to encourage children to prepare food in a healthy way. It seems to be making an impression, at least according to 5th grader Daniel who recently asked the Kids Cook! leader "Could we steam the beans like we learned about steaming the spinach last time?" It's clear Daniel is apply his new-found knowledge.
According to Kids Cook!, 90% of school principals have noticed a positive difference in the nutritional choices students make after they have participated in Kids Cook!, and an equal percentage have seen an improvement in the student's understanding of the importance of physical activity.
"AAM is committed to always bringing our "A" game to the communities we manage and raising the bar of professionalism in the Association Management industry. Our goal is to continue to make our presence known by supporting organizations such as KidsCook," said Vicki Sears, CAAM®,AMS,PCAM, AAM Vice President of New Mexico Operations. AAM and its New Mexico staff have previously contributed to the Roadrunner Food Bank and the MS Society's "Pedal Los Pueblos".
About AAM: AAM manages 20 communities in the Albuquerque, Santa Fe, Rio Rancho and Bernalillo areas, and also works with many of the largest homebuilding and community development companies in the United States such as Del Webb/Pulte, Shea Homes and Meritage Homes. Founded in 1990, AAM employs 350 people and manages more than 400 homeowners associations in the United States. http://www.associatedasset.com
About Kids Cook!: Kids Cook!™ is a student nutrition, basic exercise, and food education program to improve the literacy and health of children and their families. It serves low income students in New Mexico elementary schools and currently operates 11 sites serving 5,000 students. http://www.kidscook.us