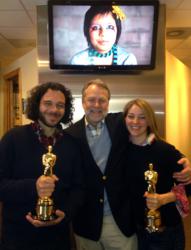 I couldn't have been prouder to see them on stage this time.
Arlington, Virginia (PRWEB) March 04, 2013
This past Sunday during the 85th Academy Awards, the staff at Henninger Media Services, an Arlington-based production and post production company, waited anxiously for the announcement of Best Documentary Short Subject. Local husband-and-wife filmmakers Sean Fine and Andrea Nix Fine were nominated for "Inocente," a film about a homeless teen growing up in San Diego, California who uses her extraordinary artistic talent as an escape from her troubled home life. After learning that 1 in every 45 American children are homeless each year* and seeing financial support for arts programs dwindling, the Fines wanted to produce a film capable of elevating the public discussion around both issues. The team at Henninger Media Services worked on the documentary in conjunction with the filmmakers, contributing online editing, sound design and mix, color correction, quality control, DVD and Blu-Ray authoring to the final film.
"Knowing that Sean and Andrea were nominated, I think all of us from Henninger were watching the Oscars this year" said Rob Henninger, the founder and CEO of the thirty-year old creative firm who is also credited as a Co-Producer on the film. "When 'Inocente' won, we were overjoyed. We loved just seeing them in the audience when they were nominated for 'War Dance' in 2007. I couldn't have been prouder to see them on stage this time, and to hear Sean's speech about the importance of the arts as well."
The Fines are known for bringing a cinematic look to their documentary subjects. "We put an enormous amount of attention into the look and feel of the scene and capturing it in a certain way with a lot of production value," said Andrea Nix Fine. To help achieve this look, they turn in part to the Henninger team.
Filming on "Inocente" started years ago, and the project was shot using both Varicam and Canon 5D cameras, before many of the kinks involved in shooting video with DSLR cameras had been worked out. The filmmakers worked with Canon and Henninger to run tests, comparing footage from the 5D to footage shot using other camera systems. They also worked with one of Henninger's senior colorists, Lauren Meschter, to devise a production plan that would allow for maximum flexibility in post. "You often start talking to a filmmaker about their project years before it ends up being finished. To work on a project like this, consulting with the filmmakers along the way and then having it win an Oscar is really rewarding," said Meschter. "I think sometimes people see post houses as places that fix things. I don't think we see Henninger as a place that fixes things. I think we see it as a place that takes what we want to do and makes it that much better," noted Sean Fine. "They add their own heart and soul into it and it takes it to another level."
The filmmaking pair returned to Henninger for their third documentary, "Life According to Sam," which chronicles one family's fight to save their son from progeria, a rare and fatal disease. "As with all of Fine Films' projects, this one is marked by Sean's distinguished directorial style and the use of different lenses, to which we contributed a combination of color and image processing techniques," said Henninger's VP of Technology, Sam Crawford. "This process gives the finished documentaries the film quality look the Fines want." The feature length documentary premiered at the Sundance Film Festival in January and will air on HBO later this year. Said Sean Fine, "It premiered on a huge screen; everything just sounded and looked fantastic."
The opportunity to work on an Oscar-winning film was a special experience for the sound engineers, colorists, editors and technical staff at Henninger. Said Dave Hurley, Senior Sound Engineer, "It is always a pleasure to work on a fantastic story that really means something." "It was truly a team effort. Out of 40 employees, I think about 15 worked on the film in one way or another," said Sara Kennedy, Senior Project Manager.
Ultimately, both the Fines and the Henninger team hope the film will serve as a reminder that the DC area has a robust, talented documentary filmmaking community. Sean Fine notes, "DC has a really good filmmaking community, and we're proud to be part of that community."
About Henninger Media Services:
Celebrating 30 years in the industry, Henninger Media Services (HMS) provides video editing, audio, graphics, Blu-ray and DVD authoring, telecine, QC, duplication and distribution solutions to a diverse client base; including broadcast, corporate, advertising, non-profit, and government. Located in Arlington, Virginia, HMS offers services in High Definition, surround sound, 3D convergence and finishing, and film transferring. Complete information about Henninger Media Services may be found at http://www.henninger.com.