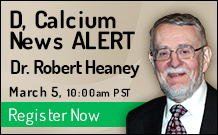 ...it's important to understand that USPSTF is not really recommending against our taking vitamin D supplements. They're saying, instead, that they can't be sure how far reaching the benefits might be.
Encinitas, CA (PRWEB) March 03, 2013
On Tuesday, March 5th at 10am PST, GrassrootsHealth will host a free webinar to address a recent statement by the U.S. Preventive Services Task Force relating to vitamin D and calcium supplements.
On Tuesday, February 26, the USPSTF released a statement concluding that vitamin D and calcium supplementation does not provide a benefit to the majority of the population, not even for fractures. It states "the current evidence is insufficient to assess the balance of the benefits and harms of daily supplementation with greater than 400 IU of vitamin D3 and greater than 1,000 mg of calcium…"
This statement by the USPSTF has caused confusion in the general public and exasperation among vitamin D experts, many of whom are calling the recommendations misleading and dangerous. Dr. Robert Heaney, MD, Professor, Creighton University, Department of Medicine and Research Director of GrassrootsHealth, the leader of the world's largest vitamin D outreach program, will offer an expert's response to this recommendation. In order to put the USPSTF statements into perspective and provide reasonable guidance for all, Dr. Heaney will be giving a short presentation followed by an answer session addressing audience-submitted questions during the free webinar; registration is open and pre-submitted questions are encouraged.
"The new recommendations on cancer and fractures are moot, because individuals already taking the vitamin D needed for the prevention of falls will automatically get whatever cancer and fracture benefit there may be," explains Heaney in a recent response to the Task Force recommendation. "So it's important to understand that USPSTF is not really recommending against our taking vitamin D supplements. They're saying, instead, that they can't be sure how far reaching the benefits might be."
The webinar, which is open to all, is one of a regular, ongoing series of Vitamin D "Scientists Answer…Your Questions" webinars offered by GrassrootsHealth. The webinars offer the opportunity for the public to address their specific vitamin D questions directly to the scientists whose life work revolves around vitamin D research.
Carole Baggerly, Director of GrassrootsHealth, addresses the conflicting messages about vitamin D to the public, stating that they can be greatly reduced if we focus on the serum level, not the intake. "GrassrootsHealth was started by getting a panel of over 40 of the best vitamin D researchers to be specific about 'what's the Vitamin D message?' in part due to this exact conflicting message situation," she states. "There will continue to be a lot of 'conflicting' reports from different groups because they're looking at very detailed information, and their answers depend highly on how the question is asked," says Baggerly, adding that the blood serum levels should always be considered when asking vitamin D questions. "None of the information has indicated any harm at the 40-60 ng/ml level, and, many have indicated benefits. Our scientists all agree that the key message is to get one's serum level to the physiological level of 40-60 ng/ml. And, 5 years later, it still is the message."
About Dr. Robert Heaney
Dr. Heaney is the John A. Creighton University Professor and Professor of Medicine at Creighton University, where he recently served as the Vice President for Research. In recognition of his service to the clinical nutrition research community, Dr. Heaney has received numerous prestigious awards, including the McCollum Award of the American Society of Nutrition, the Atwater Medal of the Agricultural Research Service (USDA), the Frederic C. Bartter Award of the American Society for Bone and Mineral Research, and the Legends Award of the National Osteoporosis Foundation. He is a fellow in the American College of Physicians (Emeritus), American Society for Nutritional Sciences, and the American College of Nutrition, and is also a member of other professional societies including the American Society for Bone and Mineral Research, and American Society for Clinical Nutrition. He has served on editorial boards for major scientific publications such as Journal of Laboratory and Clinical Medicine, BONE, Osteoporosis International, and American Journal of Clinical Nutrition. He has published over 400 original scientific papers, review articles, chapters, monographs, and higher education papers.
About GrassrootsHealth
GrassrootsHealth is a nonprofit public health research organization dedicated to moving public health messages regarding vitamin D from science into practice. GRH is currently running the D*action population intervention program to solve the vitamin D epidemic worldwide. Under the D*action umbrella, there are programs looking at the entire population as well as targeted programs for breast cancer prevention and a newly announced 'Protect Our Children NOW!' program to reduce the complications of pregnancy and childhood.