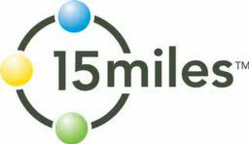 San Francisco, CA (PRWEB) March 05, 2013
15miles (http://www.15miles.com), the local search marketing division of international digital agency Geary LSF, announced today that they were awarded the number four position in the 2012 Annual Online Marketing Awards Best Local Search Company category. The awards, now in their seventh year, are presented by PromotionWorld.com and are based on demonstration of ongoing commitment to delivering the best practices in online marketing.
"We're thrilled to be recognized for our work in the local search arena," says Gregg Stewart, Geary LSF's North American President and head of 15miles. "As a full-service digital agency, our ultimate goal is to help our clients engage with consumers across all digital touch points that make up the consumer engagement path, whether local or global."
The Best Local Search Company category awards specifically, are based on offered services, package diversity, customer support, new products and services, feedback, website popularity, and overall performance.
In addition to enhancing their clients' local campaigns, 15miles.com also enhances the local search industry as a whole with the release of the 15miles/Localeze Neustar Local Search Usage Study, conducted by comScore. This year's study, the sixth annual, will be released at Search Engine Strategies (SES) NY in March during a session with Gregg Stewart, President of 15miles.
About 15miles
As the industry leader in local-search marketing, 15miles connects national and local brands with consumers through proven, strategic internet-marketing practices. A division of Geary LSF, 15miles has offices in Redding, CT, St. Louis, MO, and Chicago, IL.
About Geary LSF Group
Geary LSF is an integrated full service online marketing group that delivers more results per campaign by uniquely optimizing the digital customer engagement path. It provides advertisers with comprehensive services all under one roof: from Strategy to Development, Media Planning to Placement, SEO, SEM, Analytics, Social, Local and Mobile media services. Headquartered in San Francisco, California, the 240-people strong Geary LSF Group has offices on two continents and manages campaigns for more than 450 brands worldwide including Club Med, Target, WD-40, Bumble Bee Foods, MobiTV, MegaPath, Aramark and several others. For more information, please visit http://www.gearylsf.com. For New Business Inquiries: sales(at)gearylsf(dot)com