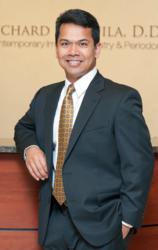 Jacksonville, FL (PRWEB) March 03, 2013
Jacksonville periodontist , Dr. Richard E. Aguila now fixes high gum lines with crown lengthening procedures. When a patient has excessive gum showing, they may not be very happy about their smile. Lowering the gum line on the bottom teeth and lifting the gum line on the top teeth can be done to an individual tooth or to the entire gum line, depending on the needs of the patient.
Patients may select this treatment to improve the look of their smile. In addition, crown lengthening can reduce the periodontal pocket depth where bacteria that cause gum disease reside. This can greatly increase one's dental health. If a tooth restoration is needed, but the gum line is too high on the tooth or the tooth has broken off below the gum line, the procedure may be used so that the restoration can be properly attached to the affected tooth. This is called functional crown lengthening.
The entire process is usually done in a single appointment and takes about an hour. A local anesthesia is administered to numb the area. The Jacksonville periodontist will then make small incisions in the gum to separate it from the tooth and reshape the gum line. Small amounts of bone may need to be removed to expose the proper amount of the natural teeth. The area is cleaned with sterile water and sutures are used to promote healing. The sutures will need to be removed a week or two after the procedure. If a dental prosthetic is to be attached, complete healing must then take place, which will usually take about six to eight weeks.
Whether a patient requires a functional procedure or wants an esthetic procedure, the Jacksonville periodontist is able to adjust the gum line for both functionality and a pleasing appearance in the patient's smile. Additional information about this procedure can be found at http://www.laseranddentalimplants.com.
Richard E. Aguila, D.D.S is a periodontist offering patients personalized dental care for Jacksonville, FL since 2010. Dr. Aguila received his Bachelors of Arts degree in Chemistry and Doctor of Dental Surgery from West Virginia University. He completed a hospital-based General Practice Residency at the Naval Medical Center- San Diego. He practiced general dentistry in the Navy for six years before pursuing his specialty training in periodontics and dental implant surgery at the Medical University of South Carolina. During this time he obtained his Certificate in Periodontics and Masters in Health Sciences with honors. Dr. Aguila has been practicing periodontics and dental implant surgery exclusively since 2001. He is part of one percent of dental professionals providing the most recent FDA cleared laser procedure for gum disease and periodontal treatment. To learn more about Richard E. Aguila, D.D.S and his dental services visit his website at http://www.laseranddentalimplants.com and call (904) 638-7980.