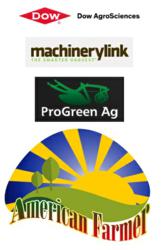 Jupiter, FL (PRWEB) March 11, 2013
DMG Productions announced today that an upcoming episode of American Farmer, centered on innovations in the agriculture industry, will air on Tuesday, March 11, 2013, at 8:30 a.m. EST on RFD-TV.
This episode provides viewers with a behind the scenes look at the agriculture industry, featuring three different companies whose innovative farming technologies are revolutionizing the industry.
American Farmer will feature Dow AgroSciences, who along with its affiliate seed company, PhytoGen Cottonseed, has been partnering with cotton growers to provide them with technology and expert agronomic support for over three decades. In this segment, audiences will learn about how Dow AgroSciences' seeds, traits, and oils research is committed to increasing yields for farmers and growers worldwide by improving genetics and stress tolerance, and helping to ensure effective weed and insect control for cotton growers.
This episode will also feature MachineryLink's combine rental business and data analytics platform, which helps growers improve their financial performance and efficiency within their operation. Viewers will be amazed by MachineryLink's ability to allow growers to significantly lower their equipment costs by eliminating the need to own an expensive, underutilized combine that is tying up capital on their balance sheet.
Additionally, American Farmer will showcase ProGreen Ag and their revolutionary "my cell" technology. Through the use of smart engineering and my cell technology, ProGreen Ag has developed carcinogen-free products, like C-4. Observers will be astonished by ProGreen Ag's products, and their ability to reverse the effects of chemical abuse on soil, while leaving a nutritional build-up.
"I'm thrilled to be able to introduce the second season of American Farmer, airing on RFD-TV," said Charlie Cowan, Senior Producer for the show. "The first season was filled with vital information that helped educate the Ag community on the new and exciting innovations to hit the industry. Season two is filled with even more in-depth knowledge and information revolving farm country."
About American Farmer:
American Farmer is a breakthrough program on a mission to showcase the latest advancements in agriculture and farming. From seed to harvest, livestock and more, our producers have traveled the country covering the people, places and issues impacting all areas of farm country.
American Farmer airs Tuesdays at 8:30am EST on RFD-TV as well as Saturdays at 1:30pm and Midnight EST on RURAL-TV.
For more information visit: http://www.americanfarmertv.com or call (866) 496-4065.
Media Contact:
Charlie Cowan, Producer
(866) 496-4065 x 875
charlie(at)americanfarmertv(dot)com