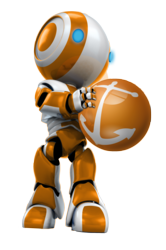 Hubspot helps you get more quality traffic to your site, more leads from your traffic, and more sales from your leads.
Saint Charles, MO (PRWEB) March 03, 2013
Anchor Communications, located just outside St. Louis, became a value-added reseller with Hubspot last September and wasted absolutely zero time making an impact. Not only did they go through Hubspot's training and quickly became a Certified Hubspot Partner, but after only 18 days, Anchor Communications was named Hubspot's Partner of the Week, then was named Partner of the Week at least once in each of the next 3 months while never dropping out of the top 3 on Hubspot's national Partner All-Star Board.
A partner's CHI (Customer Happiness Index) rating is a way of measuring the success and satisfaction of each partner based on patterns of usage, the volume and quality of the content they produce, and the results they get from inbound marketing with HubSpot. Considering Hubspot is partners with over one thousand other agencies, it is clear that Anchor Communications is one of the best at serving and satisfying their customers.
Hubspot is an all-in-one marketing marketing automation platform and software company that helps more than 8,000 companies in 56 different countries around the world. They assist in generating sales leads and, more importantly, converting them into customers. They are considered one of the major pioneers of inbound marketing.
Along with Hubspot, the people at Anchor Communications are also experts at inbound marketing and marketing automation. Inbound marketing is a form of advertising which markets a particular company through blogs, podcasts, videos, eBook, enewsletters, white papers, SEO, social media marketing, and other forms of content marketing. Anchor Communications is also a Certified Hubspot Partner and their experts are available to help set up, manage, train, and support the use of Hubspot software. They are masters at maximizing and optimizing your marketing efforts and can train, support, and offer managed services for SEO, online PR, email marketing, social media networking, and more.
"I've been to the mountaintop and spoken to the burning bush," said Anchor Communications' Owner and Chief Marketing Officer T.J. Kirgin. "I have come down a born again marketer." He also claimed that, "Hubspot will revolutionize marketing the way Photoshop has revolutionized graphic design."
Anchor Communications is a one-stop marketing agency located on historic Main Street in downtown Saint Charles, Missouri just west of St. Louis. They do media planning and buying, inbound marketing, SEO, online PR, email marketing, web design and development, and social media strategy. Collectively, they have done work with Paul Rogers-coach to Hope Solo and the Gold Medal winning U.S. Olympic Soccer Team, Lordo's Diamonds, Dr. Pepper, M&M Candies, Disney, Yahoo Sports, L'Oreal, Macy's, and many, many more. Anchor values the relationships and successes of their customers and know that brand loyalty and customer satisfaction are imperative to be a successful marketing agency.