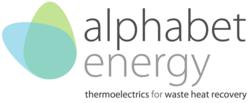 HAYWARD, California (PRWEB) March 11, 2013
(March 11, 2013) – Alphabet Energy Inc., the innovator of a platform silicon thermoelectric technology that generates power from a variety of waste-heat sources, announced today that it has closed $16 million in Series B financing. Corporate strategic investor Encana Corp., the Calgary, Alberta-based developer of natural gas and other energy sources, led the round, with participation from existing investors Claremont Creek Ventures, TPG Biotech (the venture arm of TPG), and the CalCEF Clean Energy Angel Fund.
During Alphabet's previous A round financing, the company developed several different approaches to manufacturing unique silicon-based semiconductors that generate significant amounts of electricity when placed in a temperature gradient. This research and development enabled the company to identify and adopt a unique technology approach for volume manufacturing that will minimize manufacturing costs and maximize performance characteristics. This technology momentum was coupled with additional momentum in the company's waste-heat-to-power product validation and customer acquisition efforts.
The funding from Encana and its other investors enables Alphabet Energy to accelerate product development and to officially launch its first product: a device that generates electricity from exhaust-gas waste heat. Encana's decision to invest was supported by Alphabet's delivery and installation of a turnkey thermoelectric power generation unit at an industrial facility in California during Alphabet's Series A round.
"We are pleased with the customer traction that we're getting and the enormous potential for our product to see rapid growth in the marketplace. A reliable power generator that can deliver short payback times is something the market has been waiting for." said Matt Scullin, Alphabet Energy's founder and CEO. "We are thrilled to have Encana involved. They understand the potential of generating electricity from waste heat and they are a frontrunner in the adoption of technologies that drive lower operating costs and higher profits.''
Alphabet Adds Encana's Elenko As Board Observer and Appoints Pahl As New VP of Marketing
As part of the funding transaction, Vince Elenko of Encana's Environmental Innovation Fund is joining Alphabet Energy as a board observer. In addition, Alphabet hired Mothusi Pahl, previously general manager of both Comverge and Cummins Power Generation in southern Africa, as vice president of marketing.
"We have a vested interest in the advancement of waste-heat recovery, and Alphabet's approach to generating power from exhaust gas shows great promise in delivering reliable and inexpensive reductions in fuel costs," said Vince Elenko, the lead of Encana's Environmental Innovation Fund. "This technology could help improve our environmental performance while creating significant operational and cost efficiencies – outcomes that support Encana's goal of becoming one of North America's lowest-cost natural gas producers."
Market Opportunities Abound for Alphabet Energy
Alphabet's initial product will be available generally for use in exhaust flows from engines in industrial applications. This segment alone represents an $8.5 billion opportunity within the $90 billion potential market for Alphabet's products. Alphabet is building devices that will offer very short payback times for customers seeking to offset energy costs by generating power from unused waste heat from 700°-1300°F. This low cost approach will ultimately benefit customers in a wide variety of applications including heavy industry and automobiles.
About Alphabet Energy Inc.
Alphabet Energy is commercializing breakthrough, inexpensive waste-heat recovery products based on technology developed at the Lawrence Berkeley National Laboratory. Alphabet aims to offer the most modular and scalable heat-recovery technology available, and to tap into the potential $90 billion market for the conversion of medium- and high-grade waste heat into electricity — offsetting as many as 500 million metric tons of carbon per year. Alphabet Energy has won more than eight awards since 2009. For more information see http://www.alphabetenergy.com and @alphabetenergy on Twitter.
About Encana Corporation
Encana is a leading North American energy producer that is focused on growing its strong portfolio of diverse resource plays producing natural gas, oil and natural gas liquids. By partnering with employees, community organizations and other businesses, Encana contributes to the strength and sustainability of the communities where it operates. Encana common shares trade on the Toronto and New York stock exchanges under the symbol ECA. Further information on Encana Corporation is available on the company's website, http://www.encana.com.
About Claremont Creek Ventures
Claremont Creek Ventures is a seed and early-stage venture firm that invests in energy technology, digital healthcare, payments and online businesses. The firm employs its life-cycle venturing approach, which promotes a lean and agile approach to company building by partnering with top entrepreneurs, universities, national laboratories, and strategic partners.
Claremont Creek Ventures has more than $300 million in capital under management in two funds. Based in Oakland, California the firm also has two dozen companies in its portfolio including energy technology ventures such as Alphabet Energy, Blue Pillar, Clean Power Finance, EcoAtm, EcoFactor, Project Frog, and Sentilla. http://www.claremontcreek.com.
About TPG Biotech
TPG Biotech is part of the growth equity and venture investment platform of TPG, the global private investment firm. With more than $1 billion under management, TPG Biotech targets investments in pharmaceutical discovery and development, medical technology, diagnostics, healthcare and pharmaceutical services, life sciences, as well as industrial applications of biotechnology. TPG Biotech's investments in renewables have included such companies as Amyris, Elevance Renewable Sciences, and Genomatica. Please visit http://www.tpgbiotech.com.
About the CalCEF Clean Energy Angel Fund
The CalCEF Clean Energy Angel Fund is a seed and early-stage venture capital fund dedicated to clean energy. The Fund deploys deep industry networks and experience to support capital-efficient companies focusing on renewable energy, energy efficiency, energy storage, and enabling products and services. Current investments include Lumetric, Allopartis Biotechnologies, Alphabet Energy and Reel Solar. For more information, visit calcef.org.