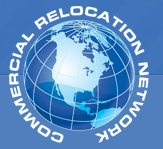 (PRWEB) March 05, 2013
The Commercial Relocation Network (CRN), leading network of commercial moving services providers, is the go-to resource for all relocation needs for the majority of large companies in the United States and Canada. Instead of managing multiple vendors during commercial moving projects, the Commercial Relocation Network provides a comprehensive solution for all moving needs. From the planning phases to the final set-up, CRN specializes in simple and stress-free commercial moves.
For clients' convenience, CRN has affiliates in major metropolitan areas where Fortune 500 companies office. This makes moving offices within the state or even across country more organized. The individual affiliates within the CRN network work together to deliver comprehensive commercial moving services. Members of this network are leading professionals in their unique specialty and clients can rest assured that every part of the move is handled with the utmost attention to detail.
Commercial moving requires very specialized knowledge. CRN affiliates can handle all the aspects involved in moving a corporate office, including computer, server and data center moving dismantling and setup, moving file libraries, recycling and disposal, warehouse relocations and even chemical and hazardous material relocation. All of these services are provided within the pre-determined budget and to the client's exact specifications.
Many Fortune 500 companies turn to CRN for commercial and personnel moves due to the organizations reputation for reliable and comprehensive commercial moving services. The top-tier clients depend on the best commercial moving services offered by CRN, when moving offices company executives and purchasing professionals must focus on numerous moving parts. CRN takes care of many logistical concerns making the move easier for the supervisors and their entire teams.
For additional information about commercial moving services for corporate companies, visit http://www.officemovingcrn.com or call (866) 714-0111.
About The Commercial Relocation Network
The Commercial Relocation Network is a membership organization comprised of the largest off industrial and office relocation companies in the United States and Canada; the process involved in a relocation company becoming a member of CRN is exceedingly stringent, meaning we offer you only the very best commercial relocation companies in today's market. Our movers can move you across the street or across the country in nothing flat, allowing you the precious time you need to continue running your corporation, or to make sure your office still takes care of business even during a move.