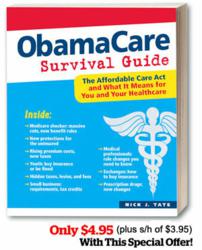 West Palm Beach, Fla (PRWEB) March 02, 2013
"ObamaCare Survival Guide" has enjoyed four weeks on the New York Times Best Seller List as sales continue to surge, placing it at # 2 among advice and how-to paperbacks since its debut on the list on February 3rd.
In addition to being an Amazon best-seller for over two months now, the book also occupies the #8 slot on Publisher's Weekly top-ten trade paper list. It's also moved up the charts of LA Times, NPR, KOBO, USA Today, and IndieBound lists.
The guide has gained the endorsement of the medical community, as well.
Yale educated Dr. Andrew Kadar of Cedars-Sinai Medical Center says of the author, "Mr. Tate distills the details of this complex and comprehensive piece of legislation into bite-size and understandable elements."
Medical Oncologist John Inzerillo writes "Seasoned author, editor, and journalist Nicholas J. Tate gives readers the good news and the bad news that ObamaCare will likely bring. The best part is that he doesn't stop there, but goes on to explain how each group, and each individual can maneuver to obtain the best possible health insurance for their life situation. Time spent with this book now will likely save you money as ObamaCare unfolds."
With unit sales topping the 200,000 mark, the guide's popularity is gaining momentum, as the Patient Protection and Affordable Care Act begins to rollout across the country.
Author Nick Tate covers every facet of the current and impending changes and how they will affect all of us, from children to seniors, the uninsured, Medicaid recipients, the employed, business owners, healthcare providers, and beyond.
"ObamaCare Survival Guide" reveals:

How premium costs will be affected
Changes to Medicare rules
New prescription drug fees
Your responsibilities and penalties under the new law
New protections for the uninsured
Essential benefits insurance companies must provide
A time-table for the healthcare plan
How to maximize healthcare dollars, and much more…
You can find the "ObamaCare Survival Guide" at booksellers everywhere, or go to Newsmax.com/ObamacareBook today to receive over $15 off the cover price. Also visit SurvivingObamaCare.com to sign up for free updates and news on the Patient Affordable Care Act.
About the Publisher, Humanix Books:
ObamaCare Survival Guide: is published by Humanix Books; Paperback, ISBN# 978-0-89334-273-9, 264 pages; E-Book, ISBN# 978-0-89334-274-6. National ad campaign via print, broadcast media, web, and social media—details available upon request. Humanix Books has over four decades of experience in the areas of business, investment, finance, lifestyle and health.