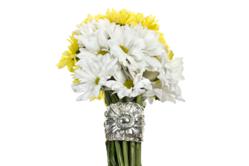 For the powerful flowers of 2013 fashion, a silver repousse' cuff bracelet is a must. Barely-there bangles need not apply.
Baltimore, MD (PRWEB) March 27, 2013
Repousse' Jewelry, the company which offers handcrafted silver bracelets, rings, necklaces and brooches by Galmer, reports that American women are enthusiastically adopting the trend of bold floral patterns for Spring/Summer fashion 2013.
From Dior's Raf Simons to Ralph Lauren to J. Crew's Jenna Lyons, designers showcased botanicals and blooms, mixed and matched. Powerful florals, in strong colors and even graphic black and white, were seen on fashion runways from Paris to Madrid to New York. And as spring kicks in, the trend has exploded on Main Street. The profusion of pattern calls for a clean, bold silver cuff to stand up to the designs. Barely-there bangles need not apply.
This Spring, Repousse' Jewelry's sterling repousse' cuffs by Michael Galmer are just the thing and regional preferences are emerging according to Carolyn O'Keefe, co-founder of Repousse' Jewelry with partner Galmer. "Certain regions have a fondness for certain flowers," says O'Keefe. "The final decision, however, is dictated by how much detail the customer prefers and the fit of the cuff."
Stores in the Northeast, such as DeScenza in Hingham, MA, has customers gravitating towards The Cherry Blossom Cuff with its petite blooms and crisp angular edges. Tiny Jewel Box, on Connecticut Avenue in DC, received requests for some color, so Michael Galmer added natural pink tourmalines in the center of each blossom, to gasp-worthy effect.
The Daisy Cuff with its bold single bloom and big gorgeous petals is a favorite among the Coastal Living crowd. Simple is beautiful in seaside locals. "No one wants to fuss with multiple bangles and jangling layers when relaxing at the beach," says O'Keefe. When O'Keefe's Southern relatives gather at Emerald Isle, NC, the sunset cocktail hour finds the women in the family wearing comfy maxis and silver cuff bracelets.
Sharfman's Jewelers, in Worcester, MA, has had a high demand for The Wild Iris Cuff, attributing its popularity to its touches of gold and artisan details in the blossom and stems. Its customers are used to investing in gold pieces but want to branch out to silver, yet the piece must go with other pieces in their jewelry wardrobes. A silver cuff with touches of gold is a no-brainer.
In the South, hands down, its The Peony Cuff. Southerners are often quite familiar with the repousse' technique and have inherited ornate flatware, vases and vanity pieces. According to Sylvan & DeBose owner, Bruce DeBose, "In our town, there is no learning curve when it comes to repousse'. Our customers know the workmanship involved and are ready to ramp up to a high level of detail, swirls and high silver weight." The Peony Cuff is the artist's favorite as well, requiring an expert mastery that cannot be duplicated.
The West Coast, outside of LA, has preferred The Sunflower Cuff with its clean edge and flurry of pointed leaves. In LA, customers like the addition of stones in colors or clear faceted natural topaz and quartz. The Slim Chrysanthemum Cuff with Sapphires is the favorite but recently customers have begun stacking Galmer's slimmer cuffs as they do with Tiffany Celebration Rings in sapphire, diamonds and rubies.
The one flower that truly sways is The Magnolia Cuff. No matter what the locale, the blossom strikes a chord with customers' hearts. "Many women are attracted to the bracelet's simplicity and love the fit," says O'Keefe. "But when they hear the magic word 'magnolia', they must have it!"
Repousse' Jewelry offers silver jewelry in a variety of floral motifs including peony, magnolia, chrysanthemum, daisy, cherry blossom, roses, iris and palm leaves.
Based in Baltimore and handcrafted in New York, Repousse' Jewelry offers new works of enduring worth. Repousse' Jewelry is sold through fine jewelry stores and online at http://www.theforevercuff.com. Each piece of jewelry is handcrafted and hallmarked by Galmer USA and grows in value due to the artist's reputation, classic beauty and rare repousse' detailing.