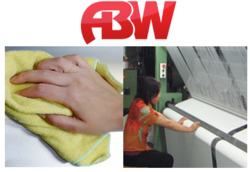 (PRWEB) March 04, 2013
In order to show appreciation for returning customers, A&B Wiper has created a new Referral Program that enables customers to receive part of the money they help bring in. In the program, when current customers refer a new client to A&B Wiper, 10% of the new client's first order will be added to the current customers' account.
The program works on any order that has come as a result of a referral, no matter how large the bulk rags order, and there is no limit to how many clients customers may refer to A&B Wiper. In order to participate in the program, current customers must first register with the Referral Program and enter the company they are referring, including the referred company's name, email and phone number. A&B Wiper makes it their goal to give back in any way they can, traditionally participating in green business practices and promoting environmental safety. Now they have extended this attitude to their clients once again.
For more information about A&B Wiper and their referral program, visit their website at http://www.bestrags.com/.
About A&B Wiper
Albert and Ben Kanefsky, two brothers, incorporated A&B Wiper in 1947. Before that, A&B Wiper's primary purpose was to repurpose pieces of scrap cloth generated in the textile industries for heavy-use cloths. Now A&B Wiper has created relationships with many small distributors and mass merchants around the world and has the largest inventory of off-priced industrial and home terry towels in the U.S. With three generations of industry knowledge and experience, they have distinguished themselves as the go-to company for microfiber cloths, shop towels, bulk rags, paint sundries and more.