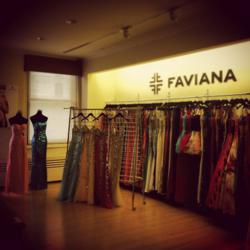 Ashley's style is effortless and chic
New York, NY (PRWEB) March 05, 2013
When Pretty Little Liars star Ashley Benson was named the Face of Faviana for 2013, there were plenty of photos of her modeling styles ranging from evening gowns to prom dresses 2013. The photographs, snapped by renowned fashion photographer Fadil Berisha, showcased this year's exquisite new styles and are just the beginning of an exciting year and partnership between Ashley and Faviana. But with so many photos to take and so many styles to showcase, Ashley wasn't able to address the media who wanted to know more about the Hollywood star's role with the Fashion Avenue dressmaker.
But that's all going to change as the star met with editors and writers from outlets such as Seventeen, Glamour, Cosmopolitan, MTV Style, NY Daily News, Stylecaster, Hollywood Life, Lucky, Teen Vogue, OK, and E! News. Journalists, fashionistas, bloggers and trendsetters descended upon the Faviana showroom to meet and talk with Ashley as she announced several of her personal favorite styles from the Faviana Collection. Her favorites feature a wide array of styles – everything from gorgeous formal wear to a fun and vibrant cocktail dress.
Sources indicate that Miss Benson will most likely opt for a cocktail dress – an appropriate choice for a day in Manhattan where the weather is finally improving – and reporters will get a chance to see Benson show off some of her personal favorites, including a dazzling blue dress (her favorite color!) which she modeled to perfection in our latest video. In addition to checking out these stunning styles, journalists and media are eager to learn about her new upcoming film, Spring Breakers.
"Ashley's style is effortless and chic," said Faviana's in-house stylist. "She has such natural beauty and a vibrant personality – it's no wonder that so many girls look up to her and admire her sense of style and personality." Benson is the first celebrity partner for the design house, known for making exquisite evening gowns and dresses but rapidly expanding into cocktail dresses. "Her fashion choices make her look and feel good, which is exactly the type of consumer – smart, ambitious and stylish - we cater to."
About Faviana: Faviana has distinguished themselves over the years as a leader in the industry for being able to create the perfect dress for any occasion – from prom to a night in the city and more, Faviana's wide range of styles are inspired by the hottest runways and fashion trendsetters, making them the 'go to' brand for the best designer-inspired looks. Designed with the fashion-smart shopper in mind, Faviana speaks to a variety of discerning, fashion forward consumers. To learn more about Faviana visit http://www.faviana.com