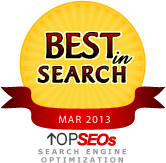 We have always felt that our team is one of the best in the industry, and today it became official.
(PRWEB) March 05, 2013
Helix House, the number one ranked Internet Marketing Firm in Arizona, has been officially ranked as one of the top 20 firms in the United States and Canada. The team at Helix House has been ranked the number eighteen firm by Top SEOs, the nation's leading Search Engine Optimization (SEO) rankings organization. "We are incredibly excited to be adding to our long list of accreditations," stated Michael Donato, co-founder of Helix House. "We have always felt that our team is one of the best in the industry, and today it became official," continued Michael.
Helix House was founded in 2006 by owners Michael Donato and Alona Rudnitsky. Since its inception the team at Helix House has focused on one thing, their clients. This commitment to client satisfaction has been a major contributor in the firm's meteoric growth. "We started this firm with one thought in mind, client satisfaction. By turning down bank loans and potential investors we made the conscious choice to be able to continuously dictate the direction of our firm, and not have the need to bend to outside influences. This commitment has given us the ability to always make the decisions that will be in the best interest of our clients, not our investors," add Alona Rudnitsky, managing partner at Helix House. "We are one of the few truly self-funded firms in the industry, and we feel it shows."
Helix House is truly a minority when stacked against their direct competitors in the Internet Marketing industry. Recent trends have shown a growth in outside investment within the online industry, and major self-funded firms are becoming harder to find. Historically the firms that accept outside investment become susceptible to outside influences, and lose the ability to dictate the direction of their firm. By becoming a leading firm while still upholding their core tenants, the team at Helix House has gained a system of flexibility and fluidity that most other leading firms cannot attest to.
"We would be lying if we said this road has been easy, but it is through adversity that we find strength," adds Michael. "We would not have the firm you see today if it was not for the hard choices we made during our inception, and our clients would not be reaping the benefits of those tough choices. With each ranking we add it validates the path we have chosen, and shows the strength our firm has gained through the years. We are ecstatic about what the future holds for our firm, and the continued change we can bring to our industry."
In the last year Helix House has added a myriad of accolades to their impressive portfolio. If the past is an indicator of their future, we should expect nothing less than excellence in the years to come.