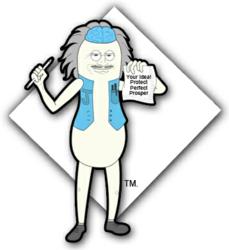 "They joined to have access to the online Idea consultant Jecee and the features found on there personal project page!" says the websites founder Ellwood G Ivey Jr.
Savannah, GA (PRWEB) March 03, 2013
The new members indicated through an online survey that "they joined to have access to the online Idea consultant Jecee and the features found on their personal project page!" says the websites founder Ellwood G Ivey Jr. "Unlike most Invention Companies as seen on TV, Creator School at shareideas.me gives its members customized information in 8 minutes," says Ivey. Users are empowered with the knowledge and guidance to facilitate their ideas for free. The custom menu provided in the member's home project page enables users to easily work their way through the creative process, starting with protecting an idea, then perfecting and finally, prospering from the idea.
"Never again will inventors, who now use Creator School at http://www.shareideas.me, be taken advantage of by ruthless invention companies and their high-pressured sales tactics!" says the website's founder Ellwood G. Ivey Jr. "Over the years I've seen and heard first-hand horror stories about how some unscrupulous companies' milk inventors out of thousands of dollars with false hopes, dreams and promises of making millions of dollars by taking their ideas to market. The facts are: (1) very few inventions are market-ready at conception, if ever. (2) Even fewer inventors have the skill set, drive and focus to successfully market their idea. That's why I developed a unique online Idea Consultant I affectionately call Jecee! Jecee's name is an acronym of Jobs, Edison, Carver, Einstein and Elion -- the last names of some of the greatest and creative minds in history."
Jecee the (online consultant) is Creators School at shareideas.me's no-nonsense professor character who greets the user on the log-in page. Once the online user completes an easy 8-minute questionnaire, Jecee provides him with a truthful real-time Custom Report that contains the user's score and a realistic appraisal of the users' abilities as an inventor/entrepreneur.
Jecee is the 1st stop for the inventor.
Creator School at shareideas.me provides Jecee's Custom Report for at no cost. As the user appreciates how the Custom Report saves him both time and money, he can make a $5.95 contribution, if he chooses.
Testimonies:
Jewel Daniels of D C Group says, "The creative process comes easy but the challenges of developing an idea to market potential and taking care of business matters to protect your ideas, is where people often fall short. Having a creative collaborative space that also helps to walk you through this journey is an amazing opportunity."
"With the resources and tools on this site, I can do my own IP work and make money from my ideas, it's great!"
—Curtis Simons, AL
"The overall quality of the information and tools on this site are excellent."
—Ella Lingard, Wilmington Isle, GA
"I have benefited greatly from the material found here during the Alpha phase, looking forward to using the site to share my ideas."
—Sharon Scott, GA
"The informative data on this site got me thinking about IP (Intellectual Property) in a whole new way."
—Denise Vollmer, GA
"During beta I think I found the hidden value on the site in the problem solving feature, it gives me the opportunity to earn money by coming up with creative solutions for small businesses."
—Terry Miser, AL
The site Launched May 24th 2012 and offers free registration for users.
About The Invention Ingen. LLC and its subsidiaries http://www.shareideas.me and Creator School.com TM. The Invention Ingen LLC. is a Delaware limited liability company founded in 2009 to improve the invention process for creative people.
For further Information Contact: Ellwood G. Ivey Jr. 912-570-7852
Contact US: The Invention Ingen LLC
The Invention Ingen LLC.
702 East Duffy Street
Savannah, GA 31401
PH No. 1-404-919-7829 or East Coast Savannah GA 912-570-7852
admin(at)shareideas(dot)me