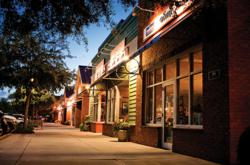 The Development of Seaside Farms has resulted in a vibrant community that employs roughly 650 people.
Mount Pleasant, SC (PRWEB) March 04, 2013
On February 24, 1998, the Town of Mount Pleasant entered into its first Development Agreement with The Beach Company, annexing 525 acres at Seaside Farms. Since that landmark agreement, the property has been transformed into one of Mount Pleasant finest communities. It currently includes more than 369 single-family homes, 402 multi-family units and over 338,000 square feet of commercial space occupied by prime retail, restaurant and office tenants such as Target, Piggly Wiggly, Stagecoach, Basil, Opal, Yamato's, Gilligan's, Better Homes and Gardens Real Estate and Nation's Bank to name a few. Other uses include wellness and health care facilities like the Franke Home and the 107-unit Homewood Suites hotel that is ranked at the top of its franchise—all of which contribute to making Seaside Farms a vibrant community that employs approximately 650 people. Seaside Farms is known as a walking community and includes roughly 40 acres of amenity, recreation, green space, ponds and a network of trails for the enjoyment of the public.
The Beach Company recently began the construction of Riviera, a new multi-family development within Seaside Farms. Riviera will include 252 class "A" rental apartments and townhomes in the heart of the Shoppes at Seaside Farms. Learn more about Riviera and its amenities by visiting http://www.rivieraatseaside.com.
With the addition of Riviera, The Beach Company estimates that over $392 million at today's values have been invested in capital improvements over the years, producing almost $2.58 million annually in total property tax revenue for the Town of Mount Pleasant. Although the Development Agreement has expired, Seaside Farms will remain as a Planned Development District under the Town's current zoning ordinance.
In a letter to Mount Pleasant Mayor Billy Swails, The Beach Company's President and CEO, John C.L. Darby, writes, "On behalf of all your friends at The Beach Company we appreciate the support of the Town and its dedicated staff, past and present mayors and council members and the community for its confidence in The Beach Company."
For over 65 years, The Beach Company has been providing the widest range of real estate services: Development, Property Management and Residential and Commercial Brokerage. Founded in Charleston in 1945, the company has honored a tradition of responsibility and excellence in providing top quality real estate products and services for communities, business, industries, and most importantly families across the Charleston Low country and Southeast Region. For more information on The Beach Company, please visit http://www.TheBeachCompany.com.