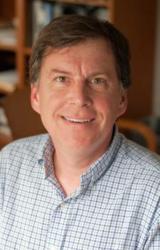 New York, NY (PRWEB) March 06, 2013
Renowned scientist Ramon E. Parsons, MD, PhD, has been named Chair of the Department of Oncological Sciences at the Icahn School of Medicine at Mount Sinai. Dr. Parsons is a highly acclaimed researcher in cancer genetics and will bring an interdisciplinary, holistic approach to Mount Sinai's team of distinguished researchers. His appointment is effective in March.
His research goals include identifying the genetic and biochemical changes that lead normal cells to develop into aggressive cancer cells. He discovered a tumor suppressor gene often mutated in cancer called PTEN, which provided a critical therapeutic target in a variety of cancers including breast, brain, prostate, and endometrial cancers. He favors organ-based studies that rely on human tissues, which he feels are essential to understanding the biochemistry of disease.
"Dr. Parsons is a world renowned scientist with tremendous enthusiasm for innovative diagnostic and treatment approaches," said Dennis S. Charney, MD, Anne and Joel Ehrenkranz Dean of Icahn School of Medicine at Mount Sinai and Executive Vice President for Academic Affairs of The Mount Sinai Medical Center. "Mount Sinai is making important advances in cancer, biology and genetics, and with an innovative leader like Dr. Parsons at the helm, we will continue to make discoveries in cancer research that will lead to novel and improved therapies for cancer."
The author of more than 90 original peer-reviewed articles, Dr. Parsons also served as an editor on several journals, including Cancer Research. He is the recipient of multiple honors, including the American Association for Cancer Research (AACR)'s Outstanding Investigator Award for Breast Cancer Research and the National Institutes of Health Research Service Award. He is a member of the AACR, the American Society for Clinical Investigation, and the Association of American Physicians. He is a past and current recipient of grant support for several projects, most relating to further research into the PTEN gene.
"We are entering a new era in cancer research in which genetics and genomics are playing a central role," said Dr. Parsons. "Mount Sinai recognizes this and is leading the charge in its commitment to multidisciplinary, translational cancer research. I look forward to leading such an innovative group of researchers and to recruit additional world-class scientists to the department of Oncological Sciences."
Formerly a Professor of Breast Cancer Research, Medicine, Pathology, and Cell Biology in the Institute for Cancer Genetics and in The Herbert Irving Comprehensive Cancer Center (HICCC) at New York-Presbyterian Hospital, he also led the HICCC's Breast Cancer Program. He began his career at Columbia as Assistant Professor of Pathology in 1995, when he also became a member of the HICCC. He held several academic positions at the University and has served as the Leader of the Breast Cancer Program since 2005. Prior to his tenure at Columbia, Dr. Parsons was a Post-Doctoral Fellow at the Johns Hopkins University School of Medicine, and received his MD and PhD degrees from the State University of New York at Stony Brook in 1992.
The recruitment of Dr. Parsons follows the appointment of Stuart Aaronson, MD, Jack and Jane B. Aron Professor and formerly Chair of the Department of Oncological Sciences, as Founding Chair Emeritus of the department after 20 years of exceptional leadership at Mount Sinai. As a highly-funded researcher in the department of Oncological Sciences at Mount Sinai, Dr. Aaronson will focus more on his active laboratory and continue to seek new discoveries in cancer research. An internationally recognized cancer biologist, Dr. Aaronson is known for his contributions in molecular oncology that have led to new cancer therapies. Dr. Aaronson and colleagues identified the first normal function of an oncogene and the role of oncogenes in growth factor signaling. His contributions include the discovery of erbB2 as a v-erbB-related gene amplified in a human breast carcinoma, which laid the groundwork for targeted treatments and provided the basis for the test used to detect those patients that would benefit from this therapy.
"Stuart Aaronson is a pioneering leader in oncological research who has helped shape our understanding of this devastating disease," said Dr. Charney. "His leadership has grown Mount Sinai into the world-class cancer research and care center that it is today."
To learn more about the department of Oncological Sciences, visit http://icahn.mssm.edu/departments-and-institutes/oncological-sciences/about-us.
To learn more about the Hess Center for Science and Medicine, visit http://icahn.mssm.edu/about-us/hess-center.
About The Mount Sinai Medical Center
The Mount Sinai Medical Center encompasses both The Mount Sinai Hospital and Icahn School of Medicine at Mount Sinai. Established in 1968, the Icahn School of Medicine is one of the leading medical schools in the United States, and is noted for innovation in education, biomedical research, clinical care delivery, and local and global community service. It has more than 3,400 faculty in 32 departments and 14 research institutes, and ranks among the top 20 medical schools both in National Institutes of Health (NIH) funding and by U.S. News & World Report.
The Mount Sinai Hospital, founded in 1852, is a 1,171-bed tertiary- and quaternary-care teaching facility and one of the nation's oldest, largest and most-respected voluntary hospitals. In 2012, U.S. News & World Report ranked The Mount Sinai Hospital 14th on its elite Honor Roll of the nation's top hospitals based on reputation, safety, and other patient-care factors. Mount Sinai is one of 12 integrated academic medical centers whose medical school ranks among the top 20 in NIH funding and by U.S. News & World Report and whose hospital is on the U.S. News & World Report Honor Roll. Nearly 60,000 people were treated at Mount Sinai as inpatients last year, and approximately 560,000 outpatient visits took place.
For more information, visit http://www.mountsinai.org.
Find Mount Sinai on:
Facebook: http://www.facebook.com/mountsinainyc
Twitter @mountsinainyc
YouTube: http://www.youtube.com/mountsinainy
# # #