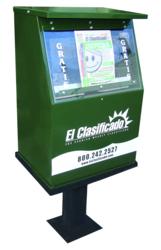 After advertising with El Clasificado for more than 8 years and receiving excellent results, it is very gratifying to have the opportunity to reach a new and growing Latino audience in Yuma, Arizona
Los Angeles, CA (PRWEB) March 04, 2013
On the verge of celebrating its 25th anniversary, El Clasificado continues to reach the country's most important Hispanic markets by expanding to two key areas: Santa Barbara County in California and, for the first time, across state line to Yuma County in Arizona.
With this double expansion, El Clasificado, an EC Hispanic Media company, strengthens its position as the largest free Spanish classifieds publication in the country with a distribution of 510,000 copies reaching 300 cities with 23,000 points of distribution throughout 48 zones. El Clasificado, whose reach spans from Fresno to San Diego, expands its coverage with these two new territories, Santa Barbara and Yuma, where the Latino population has experienced booming growth over the last 10 years.
In fact, the latest US Census statistics state that Hispanics make up over 40% of Santa Barbara County's population, while in Yuma County the percentage of Latinos reaches over 60%. This has generated great interest in El Clasificado's current advertisers, who now want to reach new markets beyond Los Angeles.
For Freeway Insurance, a specialized insurance company with more than 90 offices across the country, El Clasificado's expansion to Yuma is a new opportunity to grow its clientele reach. "After advertising with El Clasificado for more than 8 years and receiving excellent results, it is very gratifying to have the opportunity to reach a new and growing Latino audience in Yuma, Arizona," said Barney Harris, Vice President of Media for Freeway Insurance. "This expansion will allow us to serve this specific region, gain new potential customers and focus more closely on their needs".
This milestone once again defies industry naysayers by proving that print is not dead. "El Clasificado circulation has grown about 60% just in the past five years and print revenues still represent close to 95% of total company revenues," says Martha de la Torre, Co-Founder and CEO of El Clasificado. "We are excited to see our digital revenues grow as Latinos begin adopting online products at an accelerated pace, but our audience still loves print and we don't see a decline in Hispanic print any time soon. We see blue oceans of opportunities in print and have plans to expand to new territories before the end of the year."
El Clasificado will reach roughly 30,000 readers in Santa Barbara, Santa Maria, Lompoc, Goleta, Carpintería and others in Santa Barbara County, and in the cities of Yuma, San Luis, Somerton, and more in Yuma County.
About El Clasificado and EC Hispanic Media
El Clasificado, an EC Hispanic Media company, is a multi-media publication and advertising solutions company with advertising platforms in print, online, and grassroots events. More than 1.5 million readers utilize the free Spanish-language publication every week. El Clasificado, a verified publication with a weekly circulation of 510,000, is distributed in over 300 cities throughout Southern California, the Central Valley, and now Yuma, Arizona. EC Hispanic media also owns elclasificado.com which generates over 12.5 million page views and is ranked by Quantcast among the top 8,000 US websites.
Contact:
Alicia Garcia de Angela, Director of Communications
mediarelations(at)elclasificado(dot)com • 1-800-450-5852
For marketing or sponsorship opportunities, please contact Hugo Hernandez, Director of Marketing and Events hugo.hernandez(at)elclasificado(dot)com or at 1-888-204-4591