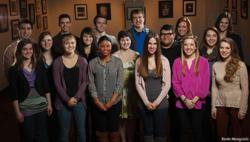 Lynchburg, Va. (PRWEB) March 01, 2013
Students from Liberty University's Department of Studio and Digital Arts made a statement at the Western Virginia Student ADDY Award competition Saturday, Feb. 23, in Roanoke, Va. They brought home 11 gold and 17 silver awards, nearly topping all schools in the region. Liberty improved upon its success from last year, garnering four times as many awards.
The ADDYs are hosted by the American Advertising Federation (AAF) and is the industry's largest and most representative competition worldwide, drawing over 60,000 entries annually. The competition includes local, district, and national judging. Gold award winners automatically advance to the next round. The AAF District 3 ADDY Awards will take place in Raleigh, N.C., March 23-24.
Liberty collected the second-highest amount of awards in the local competition, following Radford University by a slim margin and outperforming Virginia Tech and Lynchburg College.
Todd Smith, SADA chair, said this year's competition included hundreds of submissions, which had to pass an extremely rigorous critique by the judges. Liberty's representation in the Addy Awards has consistently grown, with students earning gold awards in four of the past five competitions. Last year Liberty claimed two gold awards, a judges choice, and four silvers.
"The ADDY is the most prestigious award in the advertising field. These students aren't waiting until they graduate and are hired to begin standing out, they're doing it now," said Dr. Norman Mintle, dean of the School of Communication & Creative Arts. "The prolific number of awards won by our students is not only impressive and laudatory, but demonstrative of the world-class faculty who teach and mentor these outstanding artists."
The SADA department at Liberty has seen strong growth since the program launched in its current form in 2006, rising from about 150 to more than 500 declared majors.
"Our goal is to provide an environment that encourages students to pursue artistic excellence that reflects God's creativity and brings Him glory, not just in the classroom, but in industry settings," Smith said.
View the full list of winners.
About Liberty University's Department of Studio and Digital Arts:
The Liberty University Department of Studio and Digital Arts is part of the School of Communication & Creative Arts and offers majors in Graphic Design, Studio Art, and Studio Art with Teacher Licensure. The department also offers minors in Graphic Design, Studio Art, and Photography.
About Liberty University:
Liberty University, located in Lynchburg, Va., is the world's largest Christian university. Nearly 100,000 students attend classes on its 6,800-acre residential campus and study in its thriving online education program.