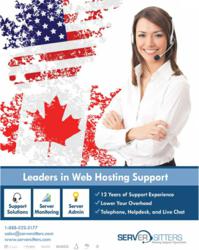 We are in the business of providing unparalleled outsourced technical support solutions to web hosting companies, and look forward to appearing at HostingCon in Austin later this year
Houston, TX (PRWEB) March 01, 2013
Server Sitters, leaders in North American outsourced web hosting support, will be making a scheduled appearance at HostingCon 2013, the ultimate conference and trade show for the hosted services industry. On June 17th-19th of 2013, the power brokers, movers and shakers from the outsourced support industry will be in front and center featuring the latest news, ideas and technology affecting the industry.
With the 2013 show, HostingCon is celebrating its 9th anniversary with a projected attendance of over 2,000 internet professionals from all over the world
Server Sitters is a dominant force in top-level technical support solutions for web hosting providers, always striving to be the industry's go-to supplier of tier-based support and elite customer service. Specializing in web hosting support for companies of all sizes, Server Sitters' ultimate vision is to guarantee their clients the highest quality of technical support solutions.
HostingCon is universally regarded as the premier venue for exhibitors to highlight their latest innovations. This year's event is being held at the Austin Convention Center in Austin, Texas and will feature over 150 different exhibitors. The conference will host 52 educational sessions across 3 full days presented by more than 100 expert speakers and panelists, including numerous industry thought leaders and trend setters.
Server Sitters invites one and all visit booth # 332 to learn more about their wide range of services including outsourced web hosting support and Linux server administration. Server Sitters employs only the cream of the crop of experienced technicians in North America, who all speak English clearly and fluently to ensure nothing is lost in translation..
Server Sitters Founder & CEO Adam Gallant explained, "We are in the business of providing unparalleled outsourced technical support solutions to web hosting companies, and look forward to appearing at HostingCon in Austin later this year".
The Austin Convention Center is located at 500 E. Cesar Chavez Street in Austin, Texas 78701. Make reservations by calling 512-404-4000, or simply visit http://www.hostingcon.com/
For more information about Server Sitters, call Toll Free: 888-522-3177 or visit http://serversitters.com/