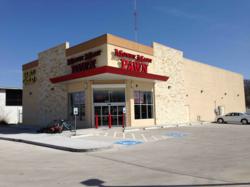 Houston, TX (PRWEB) March 03, 2013
Money Mart Pawn & Jewelry is proud to announce the grand opening of another great location in Houston, TX. The new Money Mart Pawn Houston pawn store is located at 10030 I-45 Houston, TX 77037. The official opening of the new pawn store was February 18, 2013. Money Mart Pawn & Jewelry welcomes this new addition to better serve their growing customer base.
Money Mart Pawn & Jewelry opened its first pawn store in January 1993, in San Antonio, Texas. Since that time it has grown into a multiple store chain, operating stores in San Antonio, Houston, Pearland, Humble, Bellaire, Universal City, and Boerne. Now one more location has come to Houston as part of this growth. The fast and successful growth can be attributed primarily to a great understanding of the customer needs and wants. Money Mart has been built on a sincere desire to offer good value and excellent service to their customers.
Money Mart's understanding of its customers and their desire for value is truly unsurpassed allowing the stores to create services and maintain quality items for sale at prices well within most consumers' budgets including an easy no interest layaway plan. Now with the new pawn store added to the family, Money Mart Pawn & Jewelry is able to offer more convenient locations with excellent services. Services are provided in a comfortable, friendly, dignified atmosphere. The total customer experience is what really sets Money Mart apart from its competitors.
Money Mart's many locations including the one new pawn store as well as additional information can be found at the website http://www.moneymartpawn.com or by phone at 1-800-828-7296.