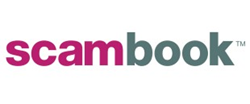 Los Angeles, CA (PRWEB) March 03, 2013
Scambook, the Internet's leading complaint resolution platform with over $10 million in resolved reported damages, wants to remind the public that National Consumer Protection Week begins Sunday, March 3.
While Scambook believes that consumer protection is always a vital issue, National Consumer Protection Week presents an opportunity to bring extra awareness to the latest consumer threats and educate the public.
Consumers may visit NCPW.gov for free resources and a list of community outreach events in their area. In a recent press release, the Federal Trade Commission's Charles Harwood* said that the website has "information that can help consumers understand their rights, protect their privacy, avoid identity theft, recognize scams, manage their credit and debt, and even report fraud."
To avoid scams and deceptive business practices, Scambook also advises consumers to review the following safety tips:
1. Research products and stores online. Consumers are advised to do online research for any new product, service, brick-and-mortar store or retail website before placing a purchase. They can find reviews from other customers and search for complaints about the business on Scambook.com. Consumers can also research the current retail price for popular items like electronics or designer fashion, enabling them to avoid misleading bargains.
Consumers are advised against using public WiFi networks when ordering a product or conducting other financial transactions such as online banking. Always look for a secure "https:/" URL before submitting credit card information or other private personal data to a website.
2. Know when and how to dispute a credit card charge. Consumers should be aware of their rights under the Fair Credit Billing Act, which guarantees that they cannot be held accountable for more than $50 when their credit card is lost or stolen.
Consumers can dispute credit card charges under the following circumstances:

If they didn't receive an item they ordered.
If they received the wrong item.
If they were charged multiple times for a single order.
If they were charged the wrong amount.
If they returned the item but never received a refund from the merchant.
To dispute a charge, consumers are advised to visit their credit card company's website for online dispute forms or write a letter to the company within 60 days. A free letter template is available on Scambook's website.
3. Watch out for debt collection scams. If consumers have debt, they also have rights protecting them from abuse by collection agencies even if they are behind on payments. Scambook reminds the public that it is illegal for debt collectors to use obscene language, make threats or publish the consumer's name on a delinquency list. Debt collectors are barred from falsely misrepresenting themselves (e.g. by claiming to be a government official), lying about the debtor's outstanding balance or threatening the debtor with jail time.
If consumers are contacted by debt collection agencies that exhibit any such behavior, it may be a scam. Consumers are advised to report the call to Scambook, the FTC or their State Attorney General. If threats of violence have been made, the consumer should call their local law enforcement immediately.
4. Stay up-to-date about the latest scams, fraud schemes and bad businesses. Consumers can use a new feature called Scambook Insights to track the latest threats. Available 24/7, Scambook Insights is Scambook's real-time analytics tool that displays live information about consumer complaints. Users can browse by complaint submission rate, location or search keyword and see trending threats for the previous 30 days, 7 days or 24 hours.
Scammers and malicious companies are always adapting to new technology like the Internet, which has made them smarter and more aggressive. With Scambook Insights, consumers can arm themselves with more information than ever before and stay one step ahead.
Having resolved over $10 million in reported consumer damages, Scambook's goal is to create a safer space for consumers and help the public fight fraud. The website recently scored a large consumer victory by making possible an $8000 refund for a Virginia woman defrauded by a work-from-home program.
Consumers can submit complaints for Scambook's dedicated team of investigators to help them get a resolution. Scambook is 100% free for consumers and does not keep any portion of resolution refunds.
About Scambook
Scambook is an online complaint resolution platform dedicated to obtaining justice for victims of fraud with unprecedented speed and accuracy. By building communities and providing resources on the latest scams, Scambook arms consumers with the up-to-date information they need to stay on top of emerging schemes. Since its inception, Scambook has resolved over $10 million in reported consumer damages. For more information, visit scambook.com.
*Lisa Lake; "National Consumer Protection Week 2013 Kicks Off Sunday, March 3"; http://ftc.gov/opa/2013/03/ncpw.shtm 03/01/2013