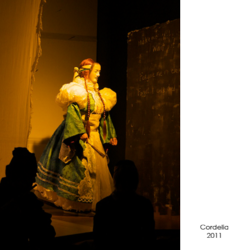 Claremont, Calif. (PRWEB) March 04, 2013
The San Francisco-based Theatre of Yugen lectures and performs excerpts from "Cordelia," a unique Japanese Noh interpretation of Shakespeare's "King Lear," beginning at 7:30 p.m. March 5 in Garrison Theater of the Scripps College Performing Arts Center, 231 E. 10th St. This event is free and open to the public.
Theatre of Yugen performs excerpts from "Cordelia," which is a version of "King Lear" adapted to emphasize the point of view of Cordelia, King Lear's youngest daughter and the play's heroine. Actors and musicians perform a modified version of Shakespearean dialogue that has been translated into Japanese and realized in the poetic, lyrical style of Noh, which requires that many of them wear masks while in character.
This event is co-sponsored by Aoki Endowment for Japanese Arts and Cultures, the Gender and Women's Studies Department at Scripps College and the Intercollegiate Department of Women's Studies at The Claremont Colleges and is part of the Scripps College Humanities Institute's spring lecture series, "Music, Dance, Ritual and Belief: Transforming Societies." Distinguished artists will examine the interplay of music and dance in ritual customs and beliefs. For more information, please call (909) 621-8237 or visit http://www.scrippscollege.edu/hi.